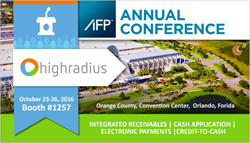 While growing in volume, electronic payments pose challenges to banks and corporations alike, who are looking to automation and straight-through processing to solve the problems...
Houston, Texas (PRWEB) October 11, 2016
HighRadius, the leading provider of Credit and Accounts Receivable automation solutions and the confirmed choice of Fortune 1000 companies, today announced that it will be exhibiting at the Association of Financial Professionals (AFP) Annual Conference, Booth 1257, to be held in Orlando, Florida, at the Orange County Convention Center, October 23-26. The Annual Conference has announced this year's theme as "Break Boundaries." The show brings together more than 6,500 treasury and financial professionals to attend educational session, earn credits and network with industry peers. AFP is headquartered outside Washington, D.C., and is the professional society that represents finance executives globally. AFP established and administers the Certified Treasury Professional and Certified Corporate FP&A Professional credentials, which set standards of excellence in finance.
At the conference, HighRadius will highlight their innovative offering: Integrated Receivables Management, which enables end-to-end automation of receivables services, including Cash Application Management, Credit Management, Electronic Invoice Presentment, Electronic Payments, Lockbox Automation and Deductions and Collections Management. With a modular design, the flexible cloud-based solution addresses specific business needs for both banks and corporations.
Integrated Receivables allows banks to modernize treasury management services and streamlines the receivables-to-cash cycle for corporate clients. It includes e-remittance capture from various media, straight-through reconciliation of payments to corporate receivables, and invoice presentment and payments. Driven by Artificial Intelligence (AI) and Robotic Process Automation, the HighRadius solution eliminates the complexity in capturing any non-standard formats and missing data elements from e-remittance across multiple media such as emails, email attachments and web portals.
"Corporations are increasingly adopting electronic B2B payment transactions to enable faster settlement and to reduce costs and risk for accounts receivable (A/R). While growing in volume, electronic payments pose challenges to banks and corporations alike, who are looking to automation and straight-through processing to solve the problems of significant human intervention and time-consuming tedious tasks that bog down and bottle-neck accounts receivables processing," stated Sashi Narahari, President and CEO of HighRadius. "Our Integrated Receivables solutions are able to maximize savings on receivables operations by automating 80% of clerical tasks, and offer enhanced richer receivables and lockbox service portfolio."
The integrated solution allows payments and remittance to be linked, data captured, and payments matched directly to corporate open invoices without the need for human intervention. Automated deduction coding and management speed up short payment identification and resolution. Invoice presentment and payments further reduce the cost of doing business. The SaaS-based solution is quick and cost-effective to deploy, without the need for significant capital expenditure or IT development work to install and manage.
The HighRadius Receivables Cloud and Payments Cloud solutions offer easy integration with any ERP system to speed up deployment and reduce need for IT resources allowing financial institutions to improve the value of their wholesale receivables services and enable corporate clients to increase operational efficiency and to achieve a strong ROI in just a few months.
Mr. Narahari will be in attendance at the show for HighRadius, as well as Jim McShea, VP of Banking Solutions, and Vikram Gollakota, Client Solutions Director. Attendees will have a chance to play the "Integrated Receivables Lotto," with opportunities to win fabulous prizes, including a trip to Hawaii, Bose Bluetooth Speakers, YETI Tumblers and Starbucks Gift cards.
About HighRadius
HighRadius provides Financial Supply Chain Management (FSCM) software solutions to optimize receivables and payments functions such as credit, collections, cash application, deductions and eBilling. HighRadius Integrated Receivables enables banks to deliver receivables and lockbox automation services to corporate clients with unmatched accuracy and with significant operational savings. HighRadius Receivables Cloud and Payments Cloud solution suites are delivered as software-as-a-service (SaaS) in the cloud to automate the entire credit-to-cash cycle. HighRadius certified Accelerators for SAP receivables management enables large enterprises to achieve advanced business transformation initiatives and leverage their SAP investments with lower TCO. HighRadius solutions have a proven track record of reducing days sales outstanding (DSO), bad debt and increasing operation efficiency, enabling banks and corporations to achieve an ROI in a few months. For more information please visit http://www.highradius.com.
For More Information Contact:
Sally Huynh
Marketing Manager
sally.huynh(at)highradius(dot)com
281.972.2101