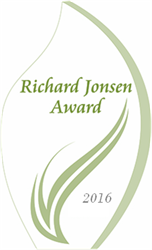 Minneapolis, MN (PRWEB) October 13, 2016
The WICHE Cooperative for Educational Technologies (WCET) is proud to announce that Dr. Robbie Melton, Associate Vice Chancellor of Mobilization and Emerging Technology for the Tennessee Board of Regents, has been honored with the Richard Jonsen Award at the WCET 28th Annual Meeting in Minneapolis, MN. The Richard Jonsen Award is given annually to a WCET member whose career has been committed to improving post-secondary educational programs and services through innovative uses of technology as well as for exceptional service to WCET.
The award is named in honor of Richard Jonsen, the WICHE Executive Director who nurtured the idea of a technology cooperative and founded WCET in 1989. More information on the award can be found on the WCET Richard Jonsen Award webpage.
Dr. Melton fully exemplifies the career leadership and contributions of Richard Jonsen. "Her winning personality has endeared Robbie to multiple generations of learners, faculty, and administrators," said Mike Abbiatti, Executive Director of WCET and Vice President for Educational Technologies for the Western Interstate Commission for Higher Education (WICHE). "Robbie's well known mantra of 'Life is good' inspires everyone she touches to overcome any challenge in search of the ultimate approach to leveraging current and emerging technologies to significantly improve opportunities for the widest diversity of learners on a global scale. Robbie Melton proves, on a daily basis, that truly 'Life is good!'"
Richard Jonsen awardees are acknowledged for their significant contributions to the e-learning community and willingness to assist others in the field. Dr. Melton has published and presented on the value of mobile apps for education and the workforce. She is well known as an "Appologist" due to her research and understanding of the best teaching practices and use of mobile apps. Dr. Melton created the Mobile App Education and Workforce Resource Center (50,000+ Apps that have been aligned with over ninety-five subject areas from Pre-K through doctoral work, including workforce careers, professional development and life-long-learning; according to one's mobile device of choice).
Dr. Melton is an important friend and supporter of WCET. She is currently a member of the Executive Council and received WCET's 2012 WOW award for her work on the Mobile App Resource Center. She continually shares research with WCET on mobile apps for teaching and learning, co-created reviews and updates on the "Best mobile apps for education" for at least 2 years. She was the keynote at the 2015 WCET Annual Meeting, where she entertained attendees by showcasing the Internet of Things in action.
About WCET
The WICHE Cooperative for Educational Technologies (WCET) is the leader in the practice, policy, and advocacy of technology-enhanced higher education. WCET is widely recognized as one of the most informative, reliable and forward-thinking organizations regarding the role of technology and innovation in higher education. More information about WCET's institutional membership resources and services can be found on WCET's website - wcet.wiche.edu.