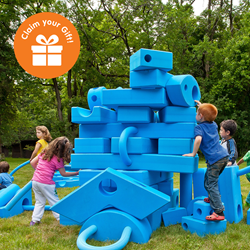 Gift of Play enabled our school to be able to purchase the Big Block set for the students at our STEM school.
New York, NY (PRWEB) October 11, 2016
Imagination Playground, LLC, http://www.imaginationplayground.com, creators of the breakthrough play space concept that encourages child-directed, unstructured free play, announced today that 255 schools have benefited from their Gift of Play program so far in 2016. Gift of Play offers financial assistance to the many schools that dearly want to bring a set of Imagination Playground Big Blue Blocks to their children, but are unable to do so without help.
Imagination Playground first launched Gift of Play in 2015, after receiving feedback from hundreds of educators saying that they wanted a set of Big Blue Blocks, but were unable to purchase due to funding limitations. Imagination Playground quickly responded, offering schools financial consideration at unprecedented levels. In September, 2016—after speaking again to hundreds of educators throughout the year—Imagination Playground decided to it was time to help by bringing back their unprecedented Gift of Play offer.
Imagination Playground President and CEO David Krishock explained, "Over the course of this year, we connected with 582 schools that wanted an Imagination Playground Block set but could not afford one. We also talked about our mutual belief in the transformational power of creative play. It wasn't hard to see that by bringing back Gift of Play, we could all reach our goal of touching more children's lives."
Imagination Playground's company mission is to help children become more involved in purposeful, child-directed play, and for adults to become more aware of and engaged in the developmental benefits of play. At the beginning of 2016, the company set specific goals to get 3 million more kids playing. Having already reached 2,276,564 more kids, 4,553,128 more parents, and 6,829,692 educators, Imagination Playground reports it is on track to reach its goals by the end of 2016, and Gift of Play is making a difference.
After accepting the Gift of Play on behalf of Evergreen Elementary School ECAP, Dayna Brown said "I've been working so hard to bring the amazing Imagination Playground to my school – this really helped us to make it happen!"
Mary Vaughn of Weslaco ISD Migrant Department reacted similarly, saying, "We would never be able to add on to our Imagination Playground set without Gift of Play!"
Perry Elementary School Principal, Dr. Polk, also agreed, saying, "Gift of Play enabled our school to be able to purchase the Big Block set for the students at our STEM school."
Schools, as well as Family Centers, interested in learning more about Imagination Playground's Gift of Play are encouraged to call 1-678-604-7466, email ContactUs(at)ImaginationPlayground(dot)org or visit http://www.imaginationplayground.com/promotions/gift-of-play.html
About Imagination Playground, LLC
Imagination Playground is a breakthrough play space concept developed to encourage child-directed, creative free play. The kind of play that experts say is critical to children's intellectual, social, physical and emotional development. Created by architect and designer David Rockwell and the Rockwell Group, Imagination Playground enables children to play, dream, build and explore endless possibilities. Imagination Playground finds its home in daycare centers, kindergartens, elementary schools, children's museums—and science, nature, discovery centers, camps, community centers, children's hospitals, hotels, public parks and more—in North America and over 60 countries overseas. For more information, visit http://www.imaginationplayground.com