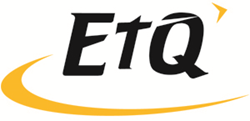 EtQ is committed to providing companies with leading Quality, EHS and Operational Risk and Compliance management software
Farmingdale, New York (PRWEB) October 11, 2016
EtQ is pleased to announce the most recent features and enhancements in Reliance 2016.
Reliance 2016 now features the ability to bookmark documents. Bookmarks make it easier to track documents. Users can now bookmark important documents and refer back to them when needed.
It is also now possible to group correlated documents in one file. With an enhanced "Print to PDF" feature, users can print attachments and related documents all in one PDF file.
"EtQ is committed to providing companies with leading Quality, EHS and Operational Risk and Compliance management software, stated Morgan Palmer, chief technology officer at EtQ. "We are proud to foster changes that will continue to improve the user experience."
For more information on other enhancements made to the latest release, contact EtQ at info@etq.com. Visit us on the Web at http://www.etq.com.
About EtQ
EtQ is the leading Quality, EHS, Operational Risk and Compliance management software provider for identifying, mitigating and preventing high-risk events through integration, automation and collaboration. At the core of EtQ's framework is a compliance management platform that enables organizations to implement best-in-class compliance processes configured to meet their existing processes, create new compliance processes and automate and control their compliance ecosystem. EtQ's product lineup includes traqpath™ for individual compliance users, VERSE Solutions™ for small to medium sized businesses and Reliance™ for enterprise organizations. EtQ was founded in 1992 and has main offices located in the U.S. and Europe. To learn more about EtQ and its various product offerings, visit http://www.etq.com or blog.etq.com.
EtQ is a trademark of EtQ Management Consultants, Inc. All other product names and company names are trademarks or registered trademarks of their respective owners.