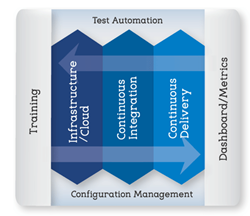 We are happy to officially reignite our DevOps practice and bring this long overdue approach to the audience at the Atlassian Summit
San Jose (PRWEB) October 11, 2016
Today, cPrime attends the annual Atlassian Summit in San Jose with a focus on promoting the benefits of Software Lifecycle Management Services (SSLM) as new approach to Agile, ALM and DevOps adoption. Software Services Lifecycle Management (SSLM) embraces the full integration of process and technology to address the fragmented way software and services are currently used.
This new approach to software services is enabling organizations to integrate their process and technology efforts in order to reduce disruption of their Agile, ALM and DevOps adoption and will help organizations move faster and deliver better software
cPrime has been helping to align their client's initiatives around process and technology for some time now and more recently has continued investment towards their DevOps practice by aligning with new partners, introducing additional service offerings, and bringing on new VP of DevOps, Brandon Cipes.
"We are excited to be bringing this approach to the Atlassian Summit for the first time," said Zubin Irani, CEO for cPrime. "For quite some time now, we have been pushing our clients towards an integrated and more strategic approach to support their software goals. DevOps is the piece most commonly neglected, so we are happy to officially reignite our DevOps practice and bring this long overdue approach to the audience at the Atlassian Summit."
cPrime is Atlassian's leading platinum expert partner and is participating in this year's Summit as a Platinum sponsor. cPrime will be showcasing the power of aligning Atlassian's software platform with portfolio and program process configurations, alignment of teams to their component software technologies and more. cPrime has has some exciting activities planned for this year's big conference including:

cPrime & Atlassian whitepaper release - SAFe for JIRA using JIRA Portfolio
Stop by the cPrime booth for live demonstrations of SAFe in JIRA, JIRA Portfolio, Agile Dashboard Reporting Gadgets, and more
Talk to a DevOps expert about integrating Jenkins and Bamboo with JIRA for requirements traceability and faster delivery
In honor of this year's Summit, cPrime announces that they have joined the Pledge 1% movement, and has elected to donate 1% of product, 1% of equity, 1% of profit or 1% of employee time to improve communities around the world. The Pledge 1% effort is spearheaded by Atlassian, Rally, Salesforce and Tides to accelerate a shared vision of integrating philanthropy into business around the world.
About cPrime
cPrime provides software services to streamline and connect the entire application lifecycle. With business objectives always a priority, cPrime helps customers implementing Agile and DevOps to align teams, processes and tools into a cohesive, unified strategy. With cPrime, organizations have a partner that provides visibility, context and strategy into the entire software delivery lifecycle through the creation of an integrated services strategy. cPrime leads the industry in integrated technical software services, and is a platinum partner of Atlassian, CloudBees Jenkins, SAFe and more.