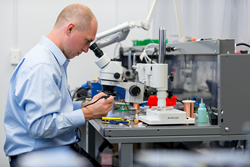 Cleveland, Ohio (PRWEB) October 11, 2016
Outsource Data Recovery, a recognized leader in data recovery services and hard drive repair, announced today that they are offering a 25% discount to those affected by the devastating effects of the Hurricane Matthew.
Millions of people were on the path of the Hurricane, which resulted in widespread floods, and several deaths. As of October 10th, this deadly storm that brought misery all the way from the Caribbeans to North Carolina has downgraded to tropical storm, but is still just as dangerous.Over 700,000 people are still without electricity.
It will take days or weeks for residents to be able to return home in many of the affected areas. Outsource Data Recovery wants to help those affected, offering 25% off of regular pricing for data recovery.
"Water and mud damage is bound to be widespread," said Bogdan Glushko, CEO of Outsource Data Recovery. "Computers, phones, tablets... all these devices contain precious memories or business assets that might otherwise be lost. This is our small way of helping those who have lost so much else this week."
Data recovery technician Evan Galasso warns against trying to recover your own data: "We really discourage people from either trying to use data recovery software or opening their hard drives up to try to fix them themselves. Without the proper totally clean environment, more damage is bound to happen. If there's been water damage, seal it up in a Ziploc bag, so it doesn't dry up too quickly."
To take advantage of Outsource's data recovery services, visit outsourcedatarecovery.com or call 1-800-573-4909. Use the code MATTHEW for the special rate.