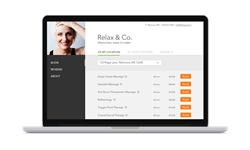 Baltimore, MD (PRWEB) October 12, 2016
Justin Shelby didn't set out to create a must-have app for freelancers and self-employed professionals.
He was just trying to solve a problem.
"A few years ago, I owned several urban health clubs," said Shelby, founder and CEO of Artichoke. "I saw how difficult it was for my trainers to make appointments, track client progress, and take payments."
Shelby created an in-house, cloud-based software solution for his trainers, giving them tools to easily manage every aspect of their client relationships.
"After a while, we realized there were millions of independent freelancers who would benefit from the app we'd built," Shelby said. "That's where the idea for Artichoke was born."
Artichoke is an all-in-one business solution designed specifically to support the rapidly-growing community of freelancers, independent practitioners, and moonlighters.
"Solo professionals can book clients, take payment, send automated appointment reminds, sell and redeem gift cards, and see their monthly revenue reports, among many other things," said Shelby. "It works from any device, and it only takes five minutes to set up and use. It's the only app freelancers need to run their business."
Over 53 million Americans are now doing freelance work, according to a study conducted by independent research firm Edelman Berland.
About Artichoke
Artichoke brings together marketing, scheduling, payments, and automated client notifications into one easy-to-use business application.
It works from any device, and it's the first mobile appointment-based tool that allows freelancers to set up and run their business in minutes.
Artichoke gives freelancers more time with their clients, a more predictable income, and a more enjoyable business.