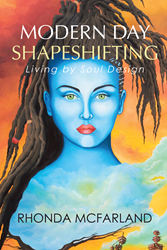 BISBEE, Ariz. (PRWEB) October 17, 2016
A successful country music album and the opportunity to perform at the Grand Ole Opry in Nashville helped Rhonda McFarland recognize her true calling – becoming a life coach.
While performing in Nashville, McFarland began to take an interest in alternative methods of expanding human potential. She felt inspired to dedicate more time, energy and education to help others seek their full potential.
With 15 years of life coaching, a desire to better understand life's process, and the determination to support the full potential of her clients, McFarland wrote "Modern Day ShapeShifting." It is a practical self-help book for readers interested in becoming healthier and happier by redesigning their lives.
"My book is a powerful and thought-provoking read on how to transform ourselves from our baggage-laden past and shift into the perfect part of ourselves: our souls," McFarland said. "Anyone and everyone is capable of shapeshifting."
"Modern Day ShapeShifting" focuses on five different types of shapeshifting, which McFarland describes as "the ability to influence reality to effectively create more of what you desire and what brings you joy." It also details McFarland's journey to discovering the process of shapeshifting, including personal stories and milestones.
"You don't have to go to school to learn how to shapeshift," McFarland said. "If you do the exercises and follow the advice, your life will change."
"Modern Day ShapeShifting"
By Rhonda McFarland
ISBN: 978-1-50435-282-6 (hc); 978-1504352833 (sc)
Available on Amazon, Barnes & Noble and Balboa Press
About Rhonda McFarland
After experiencing a successful country music career, Rhonda McFarland set her keyboard aside to serve others as a life coach. She began her first hypnotherapy and life coaching practice in Scottsdale. She has helped numerous individuals overcome emotional battles and realize their full life potential. She currently lives in Bisbee.
You can learn more about shapeshifting, or schedule a life coach session with McFarland at http://shapeshiftinginstitute.com.
Review Copies & Interview Requests:
LAVIDGE – Phoenix
Courtney Coombes
480-998-2600 x 612
ccoombes(at)lavidge(dot)com
General Inquiries:
LAVIDGE – Phoenix
Kalin Batts
480-998-2600 x 524
kbatts(at)lavidge(dot)com