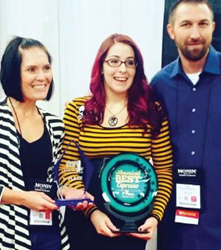 Los Angeles, CA (PRWEB) October 11, 2016
Last weekend, coffee lovers converged in Anaheim, California to compete for America's Best Espresso and America's Best Cold Brew. Klatch Coffee took home the top prize in both categories with an unprecedented double victory.
28 of the top roasters in the country competed for the title of America's Best Espresso, which starts with going head-to-head in an intense, single elimination bracket competition. The winning espresso used by Klatch is a two bean blend from Best of Panama winner Wilford Lamastus at Elida Estate.
This event also hosted the inaugural America's Best Cold Brew Competition where 32 roasters competed in a similar single elimination bracket competition to the final four. What made this competition so unique is that the cold brew is judged by both the general public and professional judges. "Klatch won with both the joes and pros alike and that means a lot." says Mike Perry, owner of Klatch Coffee. The key to the winning formula is a 100% Fair Trade Organic washed Ethiopian paired with a secret brewing recipe that separates Klatch from the rest. Look for the winning cold brew at your local retailer coming soon.
Coffee Fest Show Manager, David Heilbrunn stated "Winning both America's Best Espresso and America's Best Cold Brew is a monumental accomplishment that I wouldn't expect we will see repeated for many years to come." Two weeks earlier, Klatch Coffee took home gold in the Compak Golden Bean competition.
Klatch Coffee is currently offering all of their award winning coffees and cold brew for purchase in their stores as well as online at http://www.klatchroasting.com.