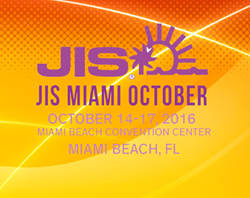 I'm excited to be bringing these new advancements in technology to the jewelry industry via the JIS trade show
(PRWEB) October 11, 2016
Miami based jeweler tool supply company, International Jewelers Supply (IJS) will be attending the upcoming Jewelers International Showcase, a trade-only jewelry buying and selling event at the Miami Beach Convention Center from October 14-17. IJS will be hosting two booths full of new and innovative tools at this event.
IJS will be unveiling cutting edge, new technologies from brands such as Orion Welders, Extra4 Labeling Systems, B9Creator and Gemlogis. All of the new technologies presented will make producing and selling jewelry much faster and more efficient. Orion Welders offer micro pulse arc and laser welders used for precision welding and repairing of metal jewelry. Extra4 Labeling Systems will feature printers, an extensive variety of labels for marking jewelry and software to drive the printers. Since the software is developed and written by the label manufacturer itself, customers can be sure that printers, software and labels work perfectly together as a system and are as easy as possible to handle. This makes it easier for consumers to understand the information about the jewelry they're considering. B9Creator is a manufacturer of 3D printers that generate high resolution models that can be casted. B9Creator allows users to move quickly from design to casting with the ability to print small prongs, filigree and rope like features. The material used meets jewelers' needs from casting resins that deliver clean burnout and produce the smallest design details in a variety of metals to resin for vulcanized molding and rapid production. Gemlogis will be demonstrating the newest technology in diamond and moissanite testers as well as colored gemstones.
Orion Welders make some of the most affordable micro pulse arc and laser welders in the industry, performing precision welding, made by the company's Ph.D. engineering team. Extra4 Labeling Systems specialized in producing jewelry labels since 85 years and provide the widest range of labels and tags for all different types of jewelry – even tailor-made with individual logos. The company introduced their software, developed in-house, for driving label printers over 25 years ago. With this experience the software brings customer data onto a label in much easier and convenient way, starting from type'n'print up to extracting data from customer's database for professional barcode labels. B9creator is a time and cost efficient 3D printer. In addition to improving production work, its speed allows you to print custom rings and place them on the customer's finger in under 45 minutes for design validation or to close a sale. Gemlogis offers the latest tester for diamonds that can distinguish a lab-grown diamond from a natural, earth-mined stone. They will also be featuring their new and innovative multi-testers that can distinguish the Forever One Moissanite.
"Miami is the gateway for business in the Caribbean and throughout South America, which is why I'm excited to be bringing these new advancements in technology to the jewelry industry via the JIS trade show," said IJS President Ralph Suarez. "Since I started in 1974, our mission has been to bring all the newest technology to jewelers around the world; these new tools we're presenting will save the bench jeweler, jewelers and gold buyers time and money."