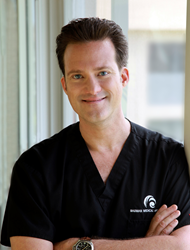 "The ISHRS always puts on a great event, and this year did not disappoint. It is so exciting to have an opportunity to meet with colleagues from around the world, and share our collective research and experiences."
Boca Raton, Florida (PRWEB) October 11, 2016
Nationally recognized hair transplant surgeon and hair loss treatment pioneer, Dr. Alan J. Bauman, attended and presented at the International Society of Hair Restoration Surgery's (ISHRS) 24th World Congress, which took place September 28 – October 1 at Caesars Palace in Las Vegas, Nevada. The annual event is one of the industry's premier educational events and is aimed at showcasing the newest breakthroughs in hair restoration, including hair transplant surgery techniques and new instruments and devices.
"The ISHRS always puts on a great event, and this year did not disappoint. It is so exciting to have an opportunity to meet with colleagues from around the world, and share our collective research and experiences," explained Dr. Bauman. "From an educational standpoint, these gatherings are invaluable to us as physicians, as well as the industry."
Dr. Bauman's presentation was focused on the combined use of a medical grade 3D-printed cranial prosthetic along with hair transplantation in a patient with two separate hair loss conditions: traction alopecia and central centrifugal cicatricial alopecia. Dr. Bauman's patient, "Ivory," was also in attendance at the Live Patient Viewing portion of the conference to discuss her experience with scarring alopecia and her combined treatments, which included hair transplantation and a custom CRLab CNC hair replacement system made in Bologna, Italy. Hair transplant surgeons from around the world were able to examine Ivory's hair restoration results first hand.
"Cranial prosthetics and the use of 3D-printing technology are some of the most exciting breakthroughs happening in hair restoration," explained Dr. Bauman. "These advanced systems have the ability to dramatically improve the quality of life for men and women who are not candidates for transplantation and other medical treatments." The 3D-printed CNC is a particularly good option for central centrifugal cicatricial alopecia, the most common hair loss condition seen in women of African descent.
"Ivory" echoes Dr. Bauman's enthusiasm for the new treatment. "Cicatricial alopecia affected my self-confidence and has been self-limiting for me. I was afraid and ashamed to seek help. Now, my results are permanent and I feel 100 percent more confident," she explained. "Dr. Bauman and my new CNC system have given me a new outlook for managing and coping with my hair loss."
During the conference, at a privately held invitation-only event sponsored by Restoration Robotics, Dr. Bauman was invited to present to a select group of hair transplant surgeons regarding his use of ARTAS, the robotic-assisted hair transplant system in his practice in South Florida.
During the four-day conference, Dr. Bauman also discussed some of the top new treatments for hair loss live on the air with television news reporter Mr. Mike Doria from FOX5 Las Vegas' morning news. Dr. Bauman demonstrated the yet-to-be-released 9.X version of the FDA-approved ARTAS robotic hair transplant system and ARTAS HairStudio preview imaging, showed how the medical-grade CRLab CNC 3D-printed hair and scalp cranial prosthesis can look just like real hair, explained the benefits of low-level laser light therapy as it relates to hair regrowth featuring LaserCap, Capillus and Theradome while also unveiling the "next generation" of powerful, hands-free LaserCap called MC2, discussed PRP Platelet Rich Plasma for hair regrowth, and demonstrated the latest diagnostic tools for hair loss like the HairCheck trichometer and HairCam dermoscopy.
Watch the live news segment videos here: https://baumanmedical.com/press-release-ishrs-dr-alan-bauman-2016/
To learn more about CNC cranial prosthetics as an option for alopecia, or to request Dr. Bauman's presentation from the ISHRS conference, visit http://www.alopecia.md.
If you or someone you know is suffering from hair loss, schedule a long-distance phone consultation or an in-person, in-office consultation with Dr. Bauman online at http://www.baumanmedical.com or by calling toll-free 844-GET-HAIR or +1-561-394-0024.
About Dr. Alan J. Bauman: Alan J. Bauman, M.D. is the founder and chief medical officer of Bauman Medical Hair Transplant and Treatment Center in Boca Raton, FL. At more than 11,000 square feet, his clinic is the world's largest stand-alone treatment center dedicated exclusively to hair loss. Dr. Bauman has been a full-time hair transplant surgeon since 1997, and has treated over 17,000 patients and performed over 7,000 hair transplant procedures.
Dr. Bauman is one of approximately 100 physicians worldwide to achieve board certification from the esteemed American and International Board of Hair Restoration Surgery (ABHRS). He is a Fellow of the International Society of Hair Restoration Surgery (ISHRS), an accepted member of the International Alliance of Hair Restoration Surgeons (IAHRS), recommended by the American Hair Loss Association (AHLA), a member of the Pantene Hair Research Institute and an active lecturer and physician faculty member for numerous medical organizations.
Dr. Bauman received his M.D. degree from New York Medical College and surgical residency training at Mt. Sinai Medical Center and Beth Israel Medical Center in New York.
Dr. Bauman has appeared in print, radio and television as a medical expert and successful early-adopter of the most advanced technologies in the treatment of hair loss. Appearances, interviews and profiles include the Today Show, The Early Show, Good Morning America, Extra, Access Hollywood and Dateline NBC among other TV appearances. Newspaper and Magazine articles and feature stories include The New York Times, Newsweek, Cosmo, Vogue, Allure, O – The Oprah Magazine and Men's Health among others.