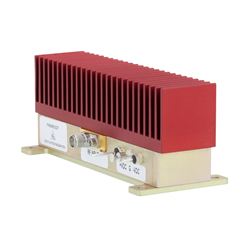 The FMAM3037 benchtop power amplifier displays impressive performance utilizing GaAs PHEMT MMIC technology
Allen, TX (PRWEB) October 11, 2016
Fairview Microwave Inc., a supplier of on-demand microwave and RF components, announced today that it has released a new general purpose bench-top power amplifier (FMAM3037) that operates across multi-octave bandwidths from 10 MHz to 15 GHz. This new broadband power amplifier offers desirable performance features that are useful in applications involved with command control communication systems, test and measurement, lab instrumentation, radar, electronic warfare, electronic countermeasures, microwave radio and telecom infrastructure.
Fairview's new benchtop PA design utilizes GaAs PHEMT MMIC technology providing high efficiency and high linearity. Typical performance includes 12 dB of small signal gain that maintains impressive flatness levels across the entire frequency band. Additional performance includes a typical noise figure of 4.5 dB, +28 dBm output P1dB and +37 dBm output IP3.
The FMAM3037 from Fairview also includes internal 50 Ohm matching of input/output ports, AC coupling, and integrated voltage bias sequencing and regulation circuitry that allows for robust operation and flexible biasing for both negative and positive voltage supplies. The compact benchtop package is versatile with field replaceable SMA connectors and incorporates a large heatsink that maintains optimum thermal performance across the operating temperature range of 0°C to +85°C. Additionally, the package is hermetically sealed and designed to meet MIL-STD-883 test conditions for highly reliable performance in rugged environments.
"The FMAM3037 benchtop power amplifier displays impressive performance utilizing GaAs PHEMT MMIC technology," explains Brian McCutcheon, General Manager at Fairview Microwave. "This amplifier assembly would normally command a long production lead-time, but Fairview stocks this product for same-day shipping to meet our customers' requirements for immediate delivery."
The FMAM3037 power amplifier is in-stock and ready to ship immediately. You can view this new product by visiting https://www.fairviewmicrowave.com/rf-products/10-mhz-to-15-ghz-broadband-amplifier-with-600-mw-12-db-gain-and-sma.html directly. Fairview Microwave can be contacted at +1-972-649-6678.
###
About Fairview Microwave
A leading supplier of on-demand RF and microwave products since 1992, Fairview Microwave offers immediate delivery of RF components including attenuators, adapters, coaxial cable assemblies, connectors, terminations and much more. All products are shipped same-day from the company's ISO 9001:2008 certified production facilities in Allen, Texas.