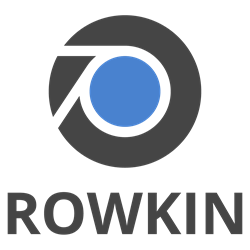 With this capacity, the Rowkin earbuds are the seamless, more affordable yet high quality alternative to the Apple Lightning EarPods and the wireless AirPods headphones
SANTA CLARA, CA (PRWEB) October 11, 2016
After the launch of its new line of earbuds, ROWKIN™ Founder Anson Liang reports strong sales of the Rowkin Bit Charge, Rowkin Bit, and the Rowkin Mini Plus+, the world's smallest stereo wireless earbuds – with early reviewers giving high marks to the sound quality.
"With the unparalleled sound quality, along with a price point set $50 below Apple's AirPods, we believe owners of new iPhone 7s will continue to look at Rowkin for an affordable high performance earbud option," said Rowkin Founder Anson Liang. "Our products will also make a great gift for any tech-savvy listener as we approach the holiday season."
By pairing two Rowkin earbuds for stereo sound, the new Rowkin earphones are the smallest wireless stereo Bluetooth headsets on the market today. With the use of Bluetooth 4.1 technology, audiophiles can connect the earbuds to any smart device – and be assured they will work within a range of up to 25 feet.
"With this capacity, the Rowkin earbuds are the seamless, more affordable yet high quality alternative to the Apple Lightning EarPods and the wireless AirPods headphones," Liang said.
Using a multifunction button on the cordless earbuds, Siri, Google Now and Cortana are just a touch away for users. Apple and Android users will never have to take their smartphone out of their pocket, offering users a genuine wireless, hands-free experience.
Other features include noise reduction and echo cancellation technology to filter any ambient noise, which gives listeners a clearer sound during calls and when listening to music.
With smart multipoint connectivity, users can operate the Rowkin in a single-earbud mode – which allows them to pair each earbud with two Bluetooth devices simultaneously. This gives users the opportunity to switch between devices, such as a phone and laptop, without the hassle of re-pairing with each device over and over.
In terms of battery power, Rowkin earbuds offer up to three hours of battery life on a single charge – and each Rowkin headset features a unique patented conductive portable charger to meet the demands of everyday use. Using a magnet, the charging device holds the cordless earbuds to give it extra battery life on-the-go.
The Rowkin Bit Charge features a first-in-the-market dual function that enables users to use the Rowkin portable charging case to charge their phones for a single charge – or charge their Rowkin earbud up to 15 times. This power bank offers a quick and easy solution for keeping smartphones powered 24/7.
"This eliminates the time users have to spend looking for a USB dock or worrying about running out of battery power," Liang added. "And the Rowkin Bit Charge's battery-charging case itself takes only about 90 minutes to charge."
Made with stainless steel, a material that maximizes the earbud housing for sound quality, the Rowkin earbuds are sweat proof and water resistant – with their IPX5 waterproof rating provided through WaterSafe nano-coating technology. The design makes Rowkin wireless Bluetooth headphones perfect for the gym, running, biking, hiking, exercising and any other activity.
The Rowkin earbuds are exclusively available on Amazon in three colors including Space Gray, Silver and a 24K Gold Edition. Dual earbuds are available for $109.99, while a single earbud costs $59.99. Consumers can purchase the Rowkin earbuds at the introductory price on the company website or through Amazon.
About Rowkin
Based in Santa Clara, ROWKIN™ focuses on the directive of delivering superior sound quality in the smallest Bluetooth cordless headsets. ROWKIN™ has carved a place for itself within the earbud market among tech-savvy users, who use earphones for calls and music. The Rowkin Bit Charge, Rowkin Bit, and Rowkin Mini Plus+ are the beginning of ROWKIN™'s innovative development of ultra-small Bluetooth earbuds to meet the needs of consumers in today's tech-driven world. For more information, visit http://www.rowkin.com.