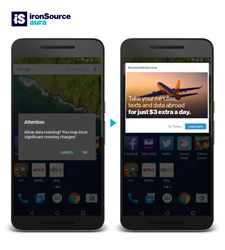 "The digital content industry is a multi-billion dollar market. With their devices and networks providing the means for enjoying great content and apps, OEMs and carriers are in a uniquely powerful position."
Tel Aviv (PRWEB) October 11, 2016
Today, global technology powerhouse ironSource announced the launch of the ironSource Aura platform, a content recommendation platform designed to empower device manufacturers and mobile carriers to build a long-lasting relationship with their customers by offering them relevant and valuable content throughout the life cycle of the device.
In development since 2014 and in stealth mode since Q2 2015, ironSource has already secured deals with more than 30 leading device manufacturers and tier-one carriers around the world including leading smartphone manufacturers HTC and ASUS. Aura is expected to ship on over 100 million devices worldwide in 2016.
"Content is the key to building value and brand loyalty with customers today," said Arnon Harish, President and Co-Founder at ironSource. "ironSource Aura enables device manufacturers and mobile carriers to turn customers into active users with smart content recommendations that build customer lifetime value."
While the smartphone market is booming, with millions of devices activated each year, the margins on these devices are becoming increasingly slimmer. With initial deployments of the product showing it adding $3-5 per device in additional revenue for ironSource US partners, this additional revenue can be a game changer for device manufacturers looking to compete in a tough market.
"The digital content industry is a multi-billion dollar market. With their devices and networks providing the means for enjoying great content and apps, OEMs and carriers are in a uniquely powerful position," said Giancarlo Fasolo, EVP Sales and Marketing, ironSource Enterprise Solutions, who joined ironSource from Amazon. "ironSource Aura empowers them to leverage their brand and gain a bigger role in this ecosystem, enriching user experience by providing relevant content at timely moments during a user's interaction with a device."
Replacing the traditional pre-load model, the Aura platform transforms the out-of-the-box process into a dynamic, richly personalized experience, which enables users to set up their devices with content that fits their needs and interests. By enhancing the user's device experience, the platform serves to increase brand loyalty for either carrier or OEM.
Benefiting from ironSource's partnerships with premium advertisers, OEMs and carriers can provide users with personalized app recommendations from numerous ready-to-install, brand-safe apps in all categories. This improved out-of-the-box experience also means users feel more personally connected to their devices, and consequently drives down churn and device turnover rate.
After the set-up process, the platform works continuously to utilize smart notifications and a discovery system based on user behavior and interests to deliver special deals, relevant apps, and data packages to drive increased engagement and NPS, and decreased churn.
"With over a million apps now available, the old practice of pre-loading apps on devices is truly outdated. Users today are looking for more customizable, relevant and dynamic content experiences that reflect their interests and evolving needs," continued Fasolo. "The ironSource Aura platform gives them the flexibility they want with the content they will value to create a win-win situation where everyone benefits. Considering the rate of global smartphone adoption, there is a tremendous opportunity for app developers, device manufacturers and mobile operators to connect with consumers over relevant content."
About ironSource
ironSource builds monetization, engagement, analytics and discovery tools for app developers, device manufacturers, mobile carriers and advertisers. Our comprehensive solutions help industry leading companies achieve greater business success, enabling them to find, understand, engage with and monetize their target audiences more effectively. Over 80K app developers are using our developer solutions, and our enterprise technology is shipping on hundreds of millions of devices worldwide, giving ironSource the ability to reach over 800 million unique users every month, globally.
Founded in 2010, ironSource is a truly global company, with offices in Tel Aviv, London, New York, San Francisco, Beijing, Bangalore and Seoul. Read more at http://www.ironsrc.com