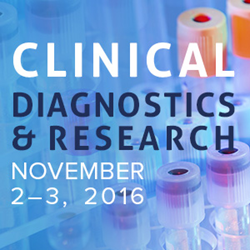 Yorba Linda, Ca (PRWEB) October 12, 2016
LabRoots, the leading provider of interactive virtual events for tech innovators, engineers, and scientists from around the world, will host its 7th annual Clinical Diagnostics & Research online conference November 2-3, 2016, highlighting recent innovations and advances in clinical research.
This event will bring together clinicians, researchers, medical experts and professionals from around the world to learn about recent developments in clinical diagnostics, research and medicine. This conference offers an unparalleled opportunity, as it is free for anyone to participants and will offer Continuing Education credits (CE), as well as Continuing Medical Education credits (CME), at no cost.
The theme of the Clinical Diagnostics & Research 2016 conference comes from an array of medical and clinical research topics. Participants will be fortunate to hear from world-renowned experts on topics such as FDA regulation in clinical labs; personalized healthcare; pathology; oncology; cardiology; point of care; precision medicine symposium; lab automation; pain management; informatics and big data; and much more.
Live-streaming of this virtual event enables attendees to collaborate and associate with peers and colleagues from the comfort of their home, office, or outdoors on their mobile device. Through the presentations and online discussions, attendees will be able to better identify laboratory directed interventions that can reduce diagnostic errors, identify commonly misused laboratory tests, and take actions that can be taken to deliver quality results faster.
The free, two-day event will commence November 2, 2016, with compelling presentations through November 3. At the conclusion of the live presentations, a Q&A session with the presenter will be offered, as well as free CE and CME credits.
For more information about Clinical Diagnostics & Research 2016, speaker bios, continuing education credits, and to register for free, visit the LabRoots website. Those interested in joining the conversation online should use #LRclinical.
About LabRoots:
LabRoots is the leading scientific social networking website and producer of educational virtual events and webinars. Contributing to the advancement of science through content sharing capabilities, LabRoots is a powerful advocate in amplifying global networks and communities. Founded in 2008, LabRoots emphasizes digital innovation in scientific collaboration and learning, and is a primary source for current scientific news, webinars, virtual conferences, and more. LabRoots has grown into the world's largest series of virtual events within the Life Sciences and Clinical Diagnostics community.