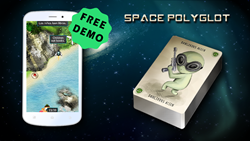 We came up with the idea for Space Polyglot when we discovered a learning method that enabled people to memorize up to 1,000 French words and phrases in a few hours. The results were astonishing.
Sofia, Bulgaria (PRWEB) October 19, 2016
Space Polyglot, which uses space travel as a backdrop and builds on a proven methodology that allows people to quickly learn a foreign language and have fun at the same time, has just been launched on the crowdfunding website Kickstarter.
"We came up with the idea for Space Polyglot when we discovered Suggestopedia - a learning method developed by renowned Bulgarian scientist and professor Dr. Georgi Lozanov that helped people memorize languages effortlessly using unintentional learning," said Nikolay Shindarov, co-creator of Space Polyglot and CEO of WitNut. "Using this learning method, people were able to memorize up to 1,000 French words and phrases in a few hours. The results were astonishing."
After deeply analyzing Suggestopedia, the United Nations Organization for Education, Science and Culture (UNESCO) wrote a report describing it as a "superior teaching method for many subjects and for many types of students compared with traditional methods."
Shindarov and his team have modernized the concept for today's generation – creating Space Polyglot in the process.
Space Polyglot is a mobile app that uses special psychological strategies in a video game environment to help people memorize foreign words and phrases. Players will begin their journey on Earth and, upon completing each level of play, eventually end up traveling to Pluto. Users just choose their native language, the language they want to learn and select either the 'learn' or 'challenge' mode.
Target languages available on the Space Polyglot demo version, which just covers planet Earth during the Kickstarter Campaign, include Spanish, German, French, Russian, Bulgarian and English – with campaign backers given the opportunity to choose the languages to be added on the final game release.
"While there are many educational apps out there, Space Polyglot is different," Shindarov said. "Users fly to different planets while avoiding meteorite crashes, listening to Mozart and hitting words with their spaceship – all the while without making any effort to memorize anything. By the end of their journey to Pluto, they'll find they already know up to 1,000 foreign words and phrases."
Visitors to the Space Polyglot Kickstarter Page can download for free demos of the game for Android and iPhone.
Also, as a special 'surprise,' Witnut's team will offer the Space Polyglot Card Game for people who back the campaign – a one-time offer only available during initial crowdfunding. Playing cards with specially designed artwork, featuring crazy creatures were drawn solely for that purpose. The decks are available in English and Spanish, so even people who are not keen on languages can still support the project and enjoy the card game.
"We believe that this simple game could lay the foundation for a whole new era of learning, one where education will be fun, effortless, fast and efficient," Shindarov said.
Exclusive Space Polyglot packages with all languages are available at special early-bird prices during crowdfunding along with the card game. To purchase or find out more, visit the Space Polyglot Kickstarter Campaign Page.
About WitNut
Founded in Sofia, Bulgaria in 2016, WitNut's mission is to change the way people study by making it more effective and more fun at the same time - using an approach that will facilitate new learning methods. For more information, visit http://www.witnut.com.