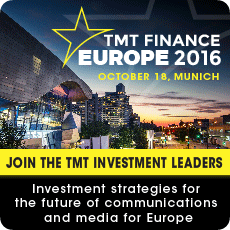 Munich, Germany (PRWEB UK) 11 October 2016
Financial technology, mobile apps, consumer marketplace, media innovation and mobile games are attracting increasing market interest and investment in Europe, as digital innovation continues to disrupt traditional industries and the telecom, media and technology (TMT) industry, say industry investors speaking at TMT Finance Europe 2016, which is being held in Munich on Oct 18.
The Investing in Digital Innovation Roundtable is one of the key sessions at the conference, which will be chaired by Frank Maaø, Senior Vice President, TMT Sector at DNB, joined by Robert Erdmann. Head of New Business, Telefónica Germany, Timm Schipporeit, Investor, Index Ventures, Dr. Michael Daldrup, Managing Director, Blue Tree Group, as well as Tobias Jaeger, Managing Partner, AXIOM Venture Capital.
A number of new technologies such as virtual reality (VR), augment reality (AR), M2M and IoT will also be debated, with TMT industry leaders and investment veterans meeting to discuss the key innovation strategies, technologies and investment opportunities, as well as how digital innovation of business models can transform growth prospects for companies across the TMT landscape in Europe.
"VR/AR will become a particularly important space, as the revolution will boost sectors like media, gaming, automatic driving, etc. Companies will combine VR/AR technology with their media or gaming products and bring a new experience to users. We're going to see the highest volume of investment in VR/AR over the next couple of years," one speaker to the conference said.
The alliance between virtual reality and gaming will continue as a hot trend. One particular reason for this is that gaming companies with reality combined (like Pokémon Go) have access to increasing amounts of data on players, which is attractive to advertisers and marketing, another speaker commented.
The TMT Finance Europe conference is now in its fourth year, and will gather over 200 international and regional CEOs, CFOs, strategy heads, private equity chiefs, and senior investment bankers, consultants and lawyers, to discuss TMT Growth Strategies, Mergers and Acquisitions, Telecom Infrastructure, Innovation, Financing, Media Convergence, Enterprise Cloud, Broadband, Datacentres and IoT.
C-level executives from Telefonica, Tele2, Telekom Austria, Play, VimpelCom, M7, Cellnex, Amazon, eBay, PCCW Global, Emitel, Beyond, Engage Sport Media, Linklaters, Wooga, HandyGames, Credit Agricole, Dentons, Index Ventures, UFA Sports, CEE Equity Partners, HgCapital, Raiffeisen, Societe Generale, Deutsche Bank and ING are among those represented on the programme.
For more information, go to http://www.tmtfinance.com/europe/