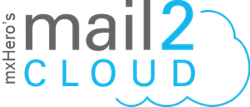 Adding MxHero's Mail2Cloud suite as a partner will give our customers the ability to securely access and manage critical email data both internally and externally
San Francisco, CA (PRWEB) October 12, 2016
MxHero, provider of email and cloud storage convergence technology, is excited to announce a certified integration with Egnyte's hybrid content management technology. Organizations can now seamlessly incorporate Egnyte Connect into their email processes and work flows. Email content and attachments can be securely stored, managed and collaborated on from the Egnyte Connect content environment.
Mail2Cloud's integration of email with Egnyte Connect benefits organizations in several key ways:

Always-on attachment security by automatically replacing attachments with secure Egnyte links;
Email governance by offering Egnyte Connect's centralized policy control over email attachments, versioning, and archiving;
Email management and collaboration, allowing intuitive filing of emails to Egnyte;
Cost reduction by up to 90%, reducing email storage and network infrastructure costs as attachments are removed from email and replaced with Egnyte links.
Mail2Cloud's innovative, server side email integration is seamless and transparent to end users. Users do not need to install client side software. Mail2Cloud works with every email system and provides a uniform experience across all email clients and devices (desktop, tablet, mobile, etc.).
"We're really excited about our integration with Egnyte. It is a unique platform that affords organizations a secure hybrid option, particularly relevant when considering storage of sensitive email data. Egnyte has rapidly taken a leadership position in the cloud storage space and we're honored to be working with such an amazing team," says Alex Panagides, CEO, MxHero Inc.
"Egnyte's partner ecosystem is an integral part of our business, as it gives our customers the ability to customize their digital workplace with the apps their employees want. Adding MxHero's Mail2Cloud suite as a partner will give our customers the ability to securely access and manage critical email data both internally and externally," said Ronen Vengosh, VP of Business Development, Egnyte. "We look forward to continuing the growth of our partner ecosystem with partners like MxHero."
About mxHero
MxHero is a company dedicated to enhancing email for businesses and end user. mxHero's products and services gives companies, service providers and end users powerful new ways to control, use and analyze email. Apps developed for mxHero's platform work with any email management program, including Gmail and Microsoft Exchange. More than 13,000 companies with 1,000,000+ users have added mxHero to their email. To learn more about mxHero visit http://www.mxhero.com. Find mxHero on Twitter: @mxheronet and Facebook: mxHero.net