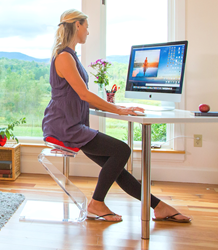 We sit for more than half our waking hours but, unfortunately, our chairs force us to sit badly, immobilizing rather than supporting us. QOR360's chairs allow for active sitting to address these problems.
Burlington, VT (PRWEB) October 25, 2016
QOR360 has announced the launch of its new line of ergonomic office chairs created to address back pain brought on by long periods of sitting. The Burlington, Vermont-based startup's new line of ergonomic office chairs utilize the company's proprietary rocker technology, the Eccentric Bi-cylinder. Developed by Dr. Turner Osler, a University of Vermont trauma surgeon turned research epidemiologist, QOR360's patented Eccentric Bi-cylinder creates a subtle, omnidirectional, rocking motion that allows the spine and hips to continuously readjust to gravity, creating a fluid movement that promotes strength and flexibility and improves overall back health.
As Dr. Osler notes, " It's a really helpful chair for back pain, because the 'Eccentric Bi-cylinder naturally encourages a much more balanced, dynamic posture than the static slumped position of sitting enforced by traditional, fixed-back chairs. Used in all of our ergonomic office chairs, QOR360's rocker allows the surface of the seat to gently tip in all directions, setting the back and hips free to move, and in the process engaging spinal reflexes that continuously align the back in a more graceful, healthier posture."
Inspired by traditions of Yoga, Akido, and Feldenkrais, QOR360's development team includes doctors, furniture designers and body-work experts, who have combined their expertise to create the contemporary and innovative line of QOR360 products. The company's focus is on developing ergonomic products that transform the sitting experience from static sitting which is restrictive and unhealthy for the spine, to Active Sitting, which is more dynamic, natural, and therapeutic for the back and spine. Beyond its use as an ergonomic office chair for task sitting or simply as a chair for back pain, QOR360's ergonomic seating is elegantly designed and fits beautifully in the home, office, studio and more. The current line of QOR360 seating which can be viewed and purchased online at http://www.qor360.com, includes five models The Uma, Hadley, Juno, and Lex.
The QOR360 company is based in Burlington, Vermont and ships its products worldwide. To learn more, please visit: http://www.qor360.com