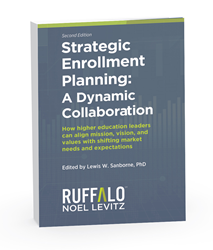 Executive forum will outline key strategies for creating an effective strategic enrollment plan.
Cedar Rapids, IA (PRWEB) October 13, 2016
Ruffalo Noel Levitz, the recognized leader in higher education enrollment and fundraising management solutions, will outline key strategies for creating an effective strategic enrollment plan at a day-and-a-half forum, December 6-7, in Boston. The Strategic Enrollment Planning Executive Forum will be presented by Kevin Crockett, president of the Enrollment Management Division of Ruffalo Noel Levitz; Lewis Sanborne, RNL vice president; Gary Fretwell, RNL senior vice president; and Michael Williams, RNL senior executive and founder of the Austen Group.
Forum topics:

External trends and demands that influence student enrollment
Academic program trends and revenue implications
Strategy identification for student success and new-student enrollment
Return-on-investment analyses used to set priorities and goals
Tips for plan development and execution
Hands-on planning time will be provided for individual attendees and teams to apply SEP concepts and to begin their plans. Each attendee will have access to an informative set of online materials, including copies of all presentations, in addition to the just-released book, Strategic Enrollment Planning: A Dynamic Collaboration, edited by Dr. Sanborne.
The registration details are available at http://www.RuffaloNL.com/ExecutiveForum
About Ruffalo Noel Levitz
Campuses turn to Ruffalo Noel Levitz to reach their goals for student recruitment, marketing, financial aid, student success, and donor engagement. The firm is distinguished by its powerful array of technology-enabled enrollment and fundraising tools currently used by more than 1,800 colleges, universities, and nonprofit organizations across North America and beyond. In addition, Ruffalo Noel Levitz conferences, research reports, papers, and articles help clients stay on top of current trends. For the latest insights, visit http://www.RuffaloNL.com.
Connect with Ruffalo Noel Levitz
Webinars, white papers, and more: http://www.RuffaloNL.com.
Email: ContactUs(at)RuffaloNL(dot)com
Phone: 800.876.1117
Twitter: @RuffaloNLEM
Blog: blogem.ruffalonl.com