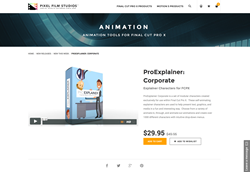 ProExplainer Corporate is a set of over 1000 different self-animating modular corporate characters that will compliment any corporate video production
Aliso Viejo, California (PRWEB) October 13, 2016
"ProExplainer Corporate is a set of over 1000 different self-animating modular corporate characters that will compliment any corporate video production," said Christina Austin - CEO of Pixel Film Studios.
The ProExplainer Corporate package features intro, through, and outro animation presets that allow video editors to easily insert an explainer character into any scene. To use ProExplainer: Corporate, start by dragging an Animate-In preset into the Final Cut Pro X timeline and use the on-screen controls to orient the character. Next select a through animation and apply the same parameter settings. Repeat these steps for the outro animation. It's that easy.
ProExplainer: Corporate features customizable facial expressions, hairstyles, and body types. Mix and match 9 different expressions, 12 different hair-dos, and 12 professional outfits using intuitive drop-down menus. Create characters for a variety of occasions ranging from a professional workplace to a business casual Friday. Get creative with ProExplainer characters.
ProExplainer: Corporate features intuitive controls that allow users to adjust the style and orientation of each animation preset. Editors can determine the scale and position of explainer characters with incredible ease. Use ProExplainer to fill half of the screen for text and graphics presentations or use characters as a small complementary cartoon. The possibilities are endless.
ProExplainer characters can be used to complement any FCPX production. Utilize ProExplainer's pointing animations to display bullet points, introduce charts, or even showcase inspiring quotes. Additionally, ProExplainer characters are the perfect complement for cartoon scenes and motion graphics.
Established in 2006, Aliso Viejo, California-based Pixel Film Studios is an innovative developer of visual effects tools for the post-production and broadcast community. Their products are integrated with popular non-linear editing and compositing products from Apple FCPX. Apple, the Apple logo, Mac OS X, and Macintosh are registered trademarks of Apple Inc. in the U.S. and/or other countries. All other trademarks and trade names are the property of their respective owners.