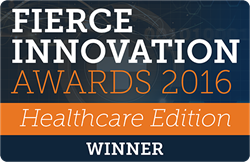 CIO-reviewed awards program from the publisher of FierceHealthcare, FierceHealthIT, and FierceHealthPayer.
WASHINGTON, DC (PRWEB) October 13, 2016
FierceMarkets (http://www.fiercemarkets.com) announced today the winners of its fourth annual Fierce Innovation Awards: Healthcare Edition. The Fierce Innovation Awards is a CIO-reviewed awards program from the publishers of FierceHealthcare, FierceHealthIT, and FierceHealthPayer.
Honorees were selected by an exclusive panel of judges including Neal Ganguly, VP and CIO at JFK Health System; Curt Kwak, CIO at Proliance Surgeons; Theresa Meadows, Senior VP and CIO at Cook Children's Health Care System; Roger Neal, CIO and VP of Information Technology at Duncan Regional Hospital; Todd Richardson, Senior VP and CIO at Aspirus; Ed Ricks, VP of Information Services & CIO at Beaufort Memorial Hospital; Rishi Sikka, Senior VP at Advocate Health Care; Terry Booker, VP of Corporate and Business Development at Independence Blue Cross; Deborah Gordon, VP of Marketing Sales and Product Strategy for Senior Products at Tufts Health Plan; Julie Slezak, Chief Analytics Officer at eviCore; and Victoria Bogatyrenko, VP of Consumer Strategies at UnitedHealthcare.
Judges evaluated submissions based on the following criteria: care efficiency, competitive advantage, financial impact/value, market need, patient experience/satisfaction, quality of care and patient outcomes, and overall fierceness and innovation. The judges also announced several elite "Best in Show" winners.
These best-of-the-best winners were deemed by our judges to have the best overall solution in the following areas:
Fiercest Cost-Saving Solution
Wolters Kluwer, POC Advisor
Fiercest Engagement Solution
Kaiser Permanente, Integrated Video Visits
Fiercest New Product/Service
analyticsMD, analyticsMD decisionsOS
Clinical Information Management:
Wolters Kluwer, POC Advisor
Data Analytics/ Business Intelligence:
Connance, Whole Patient Insight™
Digital/Mobile Health Solutions:
Kaiser Permanente, Integrated Video Visits
Financial/ Operational Solutions:
Analytics MD, analyticsMD decisionsOS
Health Information Exchange:
Orion Health, Orion Health Amadeus, the Platform for Precision Medicine
Population Health Management/ Patient Engagement Solutions:
Xerox Corporation, Xerox Health Outcomes Solution
Privacy and Cybersecurity Solutions:
Aventura, Aventura Sympatica™
About FierceMarkets
FierceMarkets, a division of Questex, LLC, is a leader in B2B e-media, providing information and marketing services in the telecommunications, life sciences, healthcare and technology industries through its portfolio of email newsletters, websites, webinars and live events. Every business day, FierceMarkets' wide array of digital publications reaches more than 2 million executives in more than 100 countries.
Current publications include: Telecom: FierceWireless; FierceCable; FierceDeveloper; FierceOnlineVideo; FierceTelecom; FierceWirelessTech; FierceWireless:Europe /TelecomsEMEA, and FierceInstaller; Healthcare: FierceEMR; FierceHealthcare; FierceHealthFinance; FierceHealthIT; FierceHealthPayer; FierceHealthPayerAntiFraud; FierceMobileHealthcare; FiercePracticeManagement and Hospital Impact; Life Sciences: FierceAnimalHealth; FierceBiotech; FierceBiotechIT; FierceBiotechResearch; FierceCRO; FierceDiagnostics, FierceDrugDelivery; FierceMedicalDevices; FiercePharma; FiercePharmaAsia; FiercePharmaMarketing; FiercePharmaManufacturing; and FierceVaccines; Technology: FierceTechExec; FierceCMO; and FierceRetail.