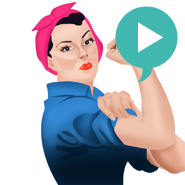 I am just a kid trying to make a difference, I thought my Audiots sound based emoji app was one way to do it - Mercer Henderson
San Francisco, CA (PRWEB) October 13, 2016
Today, 13-year old tech entrepreneur Mercer Henderson, Founder of the popular sound based emoji keyboard Audiots, released twelve new emojis in honor of breast cancer awareness month. The availability of twelve new pink emojis will serve as an engaging new way to raise awareness for breast cancer awareness amongst teenagers, through text messaging.
All proceeds will go towards breast cancer research, in hopes that by the time teenage girls are old enough to be affected, there might be a cure.
The announcement comes just two months after the company's launch of their philanthropic arm "Audiots 4 Good," a initiative created to make emojis with impact – not just for fun. The first partnership was with the SF SPCA on August 2, 2016.
"When I started Audiots in early 2016 it was for…fun. About four months ago, I decided it needed to be for 'good,'" said Mercer Henderson. "That's why I created 'Audiots 4 Good,' which now includes 24 sound based emojis total: for the SPCA, and twelve for breast cancer awareness. The proceeds from the pack ($1.99) goes towards each organizations' respective charity."
Examples of stored messages include:
"Courage is your middle name" and "You got this!"
Of course, the sender can also customize their own message, as with all Audiots Emojis.
In the last year, Audiots has partnered with major brands, including HINT Water, General Electric and the SPCA, to help engage with consumers and bring a fun, new way of communicating. By the end of the year, she expects to have several more partnership deals signed.
"I am just a kid trying to make a difference," said Henderson. "I thought my Audiots sound based emoji app was one way to do it."
Download Audiots: https://itunes.apple.com/us/app/audiots/id1078710105?mt=8
About Audiots
Audiots is an iOS app that mashes together sound and emojis. Founded in San Francisco by 13 year old, full time 8th grader Mercer Henderson in February 2016, the app features a deep repository of fun emojis, but also touts a philanthropy arm called "Audiots 4 Good," where the proceeds from the packs to go the respective organizations. The company currently has existing partnerships with General Electric, HINT Water, the SF SPCA and See Jane. How it works: Download the app and load the Audiots sound Emoji Keyboard. Pick your emoji with professionally recorded sound bites. The person on the receiving end does not have to have the same keyboard to receive the sound emoji. The name Audiots comes from combining audio and it. Find Audiots on Facebook and Twitter.