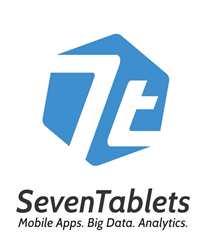 The meaning behind Techweek's Entrepreneur Expo and Launch events parallels the core of SevenTablets' founding.
Dallas, Texas (PRWEB) October 12, 2016
SevenTablets, Inc., a leading B2B mobility solutions provider specializing in mobile app development, big data and analytics as a service, announces its sponsorship of Techweek's Entrepreneur Expo. This event kicks off a highly anticipated Launch Competition for technology start-ups. The Expo showcases local companies that actively support business start-ups and Launch gives exposure to those teams that may ultimately become the next Uber or premier business solution of the world.
The Expo takes place concurrently with the Speaker Summit and Techweek events run in Dallas from Oct. 31 to Nov 6. Summit attendees will be able to learn from the experience of Reddit Co-founder Alexis Ohanian, among others, and will be able to meet SevenTablets president and mobility pioneer Shane Long, as well as award winning CEO and Founder Kishore Khandavalli, among a handpicked collection of business leaders and start-up mentors.
Speaking on behalf of the Dallas based company, Director of Marketing Adam Rizzieri said, "The meaning behind Techweek's Entrepreneur Expo and Launch events parallels the core of SevenTablets' founding. As an organic result, our clients, ranging in size from funded start-up to Fortune 500, benefit from our ability to balance their business needs of the present while keeping an eye on the future to ensure scalability and incremental, ongoing competitive advantage."
In addition to networking opportunities and scheduled workshops, Techweek will host evening music events bringing entertainment to an already energized attendance, kicking things off with an experience best described as a fusion of technology and music immersion at The Bomb Factory in Dallas' Deep Ellum district.
Following Techweek in November, Shane Long is scheduled to speak on Predictive Analytics after a keynote delivery by Emmy Award-nominated actor and marketing business leader, Rainn Wilson, at the Digital Summit Dallas in December.
For more information visit: http://SevenTablets.com
About SevenTablets: SevenTablets is a full-spectrum B2B mobility solutions provider that specializes in developing custom apps for iOS and Android. Formed in 2012, the company utilizes its STAX technology framework to provide clients with 35 to 40% reductions in cost and time-to-market. As the expert and authority on business mobile solutions, SevenTablets utilizes its "business first" approach and unique methodology that leads clients to value, aligning technology with business goals and objectives.