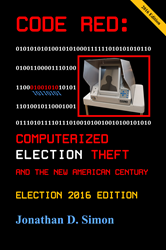 We need only remember that democracy is not something that we watch, it is something that we do
Felton, California (PRWEB) October 19, 2016
Ever since computers took over the vote counting 15 years ago, U.S. elections have been vulnerable to outcome-altering fraud. Not "voter fraud," as Trump is now stirring up fears about, but systemic vote counting fraud, according to the author. He asserts that as uncomfortable as it is to "go there," America's electoral system has been endangered in the most direct and fundamental of ways: the computers that now count virtually all of votes in secret can be—and, the evidence indicates, have been—programmed to cheat. With "CODE RED: Computerized Election Theft and The New American Century" (Amazon; October 2016), Jonathan Simon identifies the red flags--including the ones waving over most recent elections, 2014 and the 2016 primaries--and provides accessible examinations of why those flags are red.
An election forensics expert for 15 years, a prolific writer on the subject of electoral integrity, and featured in numerous films and interviews—Simon is uniquely qualified to write this book, which John Zogby, founder of the Zogby Poll, has praised as "an important public service." Simon is currently executive director of Election Defense Alliance, a nonprofit organization founded in 2006 to restore observable vote counting and electoral integrity to American elections.
The book points out that while several other advanced democracies—including Germany, The Netherlands, and Ireland—have all abandoned computerized tabulation they initially embraced, having recognized the security risks it entails, America has kept voting and trusting. Though now that trust finally seems to be breaking down. Examining the role of election administrators, politicians, and the media, CODE RED shows how America came to embrace current vote counting system and why people have been collectively resistant to any serious reconsideration of its safety and appropriateness. Simon also examines the nexus between computerized elections and the veer of American politics toward the unprecedented distrust and disgust that have engulfed it. Building awareness and knowledge as a basis for prompt remedial action, he offers a road map out of this mess.
Restoration of fair and honest elections, public trust in the electoral process, and public sovereignty itself are all at stake—and CODE RED pulls no punches about the urgency of the situation. Simon concludes: "We need only to break a spell that has been cast on us--a spell of convenience, passivity, helplessness. We need only remember that democracy is not something that we watch; it is something that we do."
CODE RED is the definitive, critical observation of what has happened to American elections, American politics, and America since computers took over, and what we as a nation can do about it.
About the Author: Jonathan Simon is an author, attorney, and executive director of Election Defense Alliance. He is a graduate of Harvard College and New York University School of Law; he lives in Felton, California.