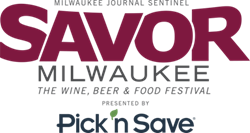 Milwaukee, Wisconsin (PRWEB) October 11, 2016
On November 5-4, SAVOR Milwaukee, Presented by Pick n' Save, will put on their first annual tasting event. SAVOR Milwaukee, formerly Wine and Dine Wisconsin, features a stellar line-up of vendors, multiple cooking and baking demonstrations, and countless food and beverage samples both days.
Guests can sample their way through over 100 exhibits featuring products, caterers and menus from right here in Wisconsin. They'll enjoy freshly-made sushi, a craft beer pavilion, cheese islands and the UnWine'd lounge with Bittercube.
The event will have presentation stages where expert demonstrations will take place throughout the weekend. Included in this year's presentations is a special appearance by Leroy Butler.
Attendees can also cook with the experts from Milwaukee Area Technical College's Culinary Arts program and learn more about culinary careers at the Milwaukee Area Technical College Hands-on Cooking Area.
Critic's Choice
SAVOR Milwaukee will also showcase some of the area's hottest restaurants in the Critic's Choice area. All of the restaurants in Critic's Choice are selected from Milwaukee Journal Sentinel food critic Carol Deptolla's Top 30 Restaurants list. Critic's Choice tickets are limited.
Ticket Information
Saturday General Admission Only: $50, Includes access to all of the vendors, presentations, and hands-on demonstrations on the main floor.
Saturday Critic's Choice: $80, The Critic's Choice Ticket includes General Admission and grants access to SAVOR Milwaukee's special Critic's Choice area.
Sunday General Admission Only: $45, Includes access to all of the vendors, presentations, and hands-on demonstrations on the main floor.
Tickets are on sale now!
About SAVOR Milwaukee:
SAVOR Milwaukee is the wine, beer and food festival. Samples include wine, microbrews, craft cocktails and bite-size previews of what you'll find when you visit the greater Milwaukee area's restaurants. The 2016 event will be held on November 5th and 6th at the Wisconsin Center in downtown Milwaukee.