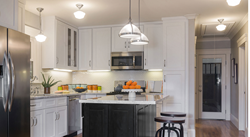 Los Angeles, California (PRWEB) October 13, 2016
With the access to high-speed internet becoming more universally available, more people are expecting their appliances and technology to have Wi-Fi capabilities. Today, more appliances than ever are touting the ability to connect to the World Wide Web and other devices, allowing consumers to fill their household with interconnected appliances that can be controlled remotely, send vital information to a phone or tablet, and perform automated functions. In this way, the Internet of Things has drastically changed the landscape of consumer goods, especially in the appliance industry.
One great example of an appliances that is making use of WiFi capability is the Samsung Family Hub Refrigerator. This refrigerator keeps track of what items its owner has available and allows them to order more groceries as needed directly from its screen, making it easier than ever to keep track of their grocery shopping needs.  Another great example of how the appliance industry is making use of the Internet of Things is GE washers & dryers. With GE's new line of WiFi connected washers and dryers a consumers can monitor which cycle their laundry is on with their smartphone or tablet, allowing them to easily keep up with when the load needs to be changed over. Along with WiFi connected washers and dryers, GE also offers a WiFi Enabled Oven that allows the users to preheat their oven, set timers, and change the temperature from any location with their smartphone.
 
Appliances such as these that can connect to other products greatly improve efficiency and make tasks much easier than before. Everyone has their eyes on the future and what technology will be able to offer in the coming years.
One way in which most all appliances will perform beyond their basic use is that they will come equipped with ability to be controlled from any location. As mentioned, GE has already brought to market various lines of appliances that can be controlled remotely with an app, and consumers can expect other companies to soon follow suite. Along with receiving information, appliances of the future will send out information as well. An example of this can be seen in GE's WiFi connected water heater. This water heater sends out automated maintenance alerts, allowing its owners to keep close tabs on its performance without having to take the time to perform a manual inspection.
Saving time is, in fact, the driving force behind the appliance industry's move towards interconnected appliances. Slowly, the Internet of Things is allowing us to move towards appliances that are almost entirely automated, removing the need for manual input one step at a time.  
These innovations are still incredibly new, meaning that people are just beginning to see some of the advantages they can offer. In the coming years, the appliance industry will only continue to become more intelligent and connected, so that soon everything in the home will operate fluidly and efficiently. Undoubtedly, this can only serve as excellent news for consumers and appliance providers alike, as these technological innovations will make appliances of the future increasingly more desirable. 
For those who are interested in updating their own home with any of these WiFi enabled appliances, Your Appliance Repair will install and repair them as needed. Feel free to learn about the services Your Appliance Repair offers or contact Your Appliance Repair today!