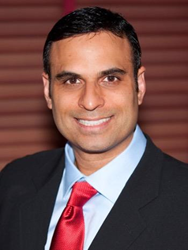 Oak Brook, IL (PRWEB) October 11, 2016
Patients with missing teeth are invited to attend a dental implant seminar hosted by Dr. Amarik Singh on Wednesday, October 12, 2016. Dr. Singh is a leading dental implant specialist and periodontist and has placed more than 15,000 dental implants in Oak Brook, IL. He looks forward to educating patients on the benefits of implants.
Dental implants offer patients an alternative to bridges, partials and dentures, and are a preferred tooth replacement option for those who want to retain a natural and healthy appearance. One highly desirable benefit of dental implants is their ability to minimize jawbone degradation that occurs once a tooth is lost. The titanium post of each implant mimics a natural tooth root by stimulating the jaw with each chewing motion, maintaining jawbone growth.
Another benefit Dr. Singh will discuss is the durability of dental implants. This is due in large part to the materials they are designed from. Each post is made from decay-resistant titanium, while each crown is made with high-quality porcelain that is uniquely customized to match surrounding teeth and complete an appealing smile. After placement, the jawbone forms a secure bond with the implant post during a process called osseointegration. This process contributes to implants' unrivaled stability.
All attendees will receive a $250 gift card that can be used towards a dental implant treatment. There will also be one grand prize winner who will receive a complimentary dental implant from this skilled implant specialist.
Patients with missing teeth are invited to attend Dr. Singh's upcoming seminar and learn more about the benefits of dental implants in Oak Brook, IL. Those who would like to reserve a seat or schedule an appointment are invited to call 630-424-9404.
About the Doctor
Periodontal Implant Associates is a periodontal practice offering personalized dental care for patients in Oak Brook, IL, and the Chicago area. After graduating from Northwestern University Dental School, Dr. Amarik Singh went on to obtain his Specialty Certificate in Periodontics and earn his Master's from Northwestern University. Dr. Singh is deeply committed to continuing education and prides himself on remaining on the cutting-edge of the newest techniques and technology in dentistry. Dr. Singh has placed over 15,000 dental implants using a minimally-invasive technique and is part of an elite group of dental professionals at the forefront of the Chao Pinhole® Surgical Technique (PST™), a revolutionary new approach to repairing gum recession. To learn more about the periodontal services available at Periodontal Implant Associates, please visit http://www.pidentists.com or call (630) 424-9404.