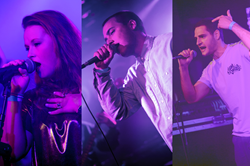 We want to spread the word about these teenage cancer charities, and their important work in bringing young people together for treatment in a home-away-from-home environment.
Chandler, Arizona (PRWEB) October 17, 2016
For a young person confronting cancer, low self-esteem and social isolation is common. In a powerful new music video, STA Travel highlights the valuable work of youth cancer charities in making sure no young person faces cancer alone.
The six-minute clip showcases the strength of young people facing cancer in their lives, and promotes a new fundraising partnership between STA Travel and Teen Cancer America, CanTeen Australia and New Zealand and Teenage Cancer Trust in the UK.
"There are specific challenges that come with having cancer when you're young," said STA Travel CEO John Constable.
"Normal life is suddenly turned upside down and treatment prevents you from socializing, playing sports and traveling.
"We want to spread the word about these teenage cancer charities, and their important work in bringing young people together for treatment in a home-away-from-home environment."
The video was brought to life by STA Travel Creative Director Tor White with the help of US filmmaker and cancer survivor, Hernan Barangan, who is on his own mission to tell the stories of young people with cancer across the US.
"Being a cancer survivor comes with a weight of its own – a duty to give back," said Hernan. "I want to disrupt the way we look at cancer to dispel fear and focus on the strength of the young people affected."
Hernan has interviewed nearly 100 young cancer patients in every US state for a documentary titled 'Cancer Rebellion' that he hopes to launch at the Cannes Film Festival in 2017.
The song titled 'Forecast' was written and performed by nine-piece hip-hop collective Along Came Shifty, a UK band recently featured on the STA Travel Sounds new music platform.
Over the next five years, STA Travel is raising money to support young people with cancer by giving travelers the opportunity to donate $2 with any booking made in the US. All the proceeds of 'Forecast' downloads from iTunes will also be split between the four charities.
You can download the clip from iTunes and make a donation or watch it on YouTube.
Teen Cancer America relies on donations to fund its important work. Find out more, get involved or make a donation here.
About STA Travel
STA Travel is the world's largest youth travel company. We've been successfully delaying students from entering full-time employment since 1979, and every year we send more than 2 million passengers on life-changing adventures. Today we have more than 2,500 people in over 200 stores in 12 countries, including Australia, Austria, France, Germany, Switzerland, Japan, New Zealand, Singapore, South Africa, Thailand, United Kingdom and United States. We also work with franchisees, joint ventures and licensed partners in more than 40 countries.
About Teen Cancer America
Teen Cancer America (TCA) helps hospitals and healthcare professionals bridge the gap between pediatric and adult oncology care by supporting hospitals and outpatient facilities in the development of specialized units for this age group. TCA brings together physicians and allied healthcare professionals in both pediatric and adult oncology. Age targeted care for this population is necessary for medical and appropriate psychosocial development. Outcomes associated with some cancers that target this age group have not improved in over 30 years. Teens and young adults with cancer are long overdue for an upgrade and TCA can light the fire in America's health systems. For more information about TCA or to inquire about making a contribution, please contact Teen Cancer America at 1.310.208.0400 or [email protected]
About Along Came Shifty
Combining intricate beats, soulful melodies and thought provoking lyrics, they captivate audiences with their frenetic live sets in the UK and across the globe. In a fusion of soul, funk and hip-hop, Along Came Shifty generate intense and infectious grooves. Coupled with the soulful and often haunting vocals of Daisy Drage and complex rhymes of Awfer and ILLiterate they truly own a unique sound. Having had an incredible 2016 encompassing gigs in Thailand and a string of high profile support slots for the likes of hip-hop legends Pete rock and CL Smooth, The Sugar Hill Gang, Dead Prez and The Pharcyde, Along Came Shifty are an act not to be missed.
About Hernan Barangan
One month before his 16th birthday, Hernan was diagnosed with Leukemia. He spent much of his time recovering from chemotherapy watching movies, and after he beat the disease he took on filmmaking to give back. In the past year, he has filmed the stories of almost 100 teens with cancer in the US so that a united voice of young people can be heard. He hopes to launch his documentary 'Cancer Rebellion' at the 2017 Cannes Film Festival.