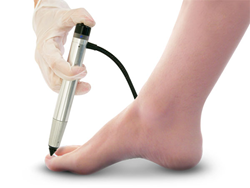 Cherry Hill, New Jersey (PRWEB) October 20, 2016
Podiatrists across the nation are using Clearanail's® breakthrough technology to drill into the toenail, delivering topical antifungals directly to the source of the problem.
Physicians have historically faced challenges getting medications to penetrate the nail, especially for fungal infections. In June 2016, Clearanail's® "smart-drill technology" – Controlled Micro Penetration (CMP) - became available from Europe.
Now, U.S. physicians are able to easily drill multiple 0.4 mm holes – or micro pathways – into patients' toenails without pain or negative side effects. These holes provide channels for commonly prescribed topical medications to flow through the nail into the nailbed. Topical treatments are often preferred by patients due to possible side effects of oral medications, like liver toxicity..
In August of 2016, the Journal of Drugs in Dermatology featured an article by Dr. Ivan Bristow which states, "Nail keratin is harder than the epidermis of skin…(drilling) downward counter pressure from the nail plate across the nailbed spreads antifungal solutions like Terbinafine 1% (OTC) even further."
Early adapters of the technology – podiatrists from New York to California – are finding that the device has a "fully automated fail safe system." The patented CMP technology electronically monitors up to 1 mm of depth. At this point, the Clearanail® device automatically retracts, leaving no pain or injury to the patient.
Dr. Annette Joyce, owner of Freedom Foot and Ankle, a private podiatry practice in Westminster, Maryland, is one of the first in the U.S. to offer the Clearanail® procedure. "Clearanail® provides an alternative for patients who have tried other fungal nail treatments like lasers or nail removal and did not achieve desired results," said Dr. Joyce. "Patients with moderate-to-severe cases, with thickened nails, find that only a single Clearanail® treatment is necessary - which is often not the case for most other technologies. Patients can avoid drugs that might cause liver damage or drug reactions. This is a new beginning for podiatrists and our patients who have been looking for a quick, painless, safe and effective way to penetrate the nail; getting topical antifungals to the source of the infection," said Dr. Joyce.
Clearanail® is now available for physician orders and will be showcased nationwide in upcoming 2016 medical conferences - including DERMfoot and American Academy of Podiatric Practice Management (AAPPM). Both physicians and patients can learn more or find a Clearanail® provider at http://www.clearanailnorthamerica.com..
###
Media Inquiries: Sarah Breymeier | 309-642-9450 | sarah(at)footdocpreneur(dot)com