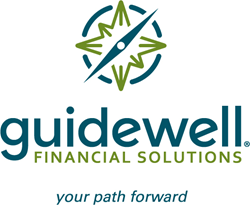 I used to avoid doing the bills, because I knew I'd probably overspent. In the program, I learned to honor and respect money. Now I control my finances – they don't control me! ~ Martha Souder, Guidewell Financial Solutions Clie
Baltimore, Maryland (PRWEB) October 12, 2016
Martha Souder is an amazing woman by any standard. When she entered Guidewell Financial Solutions' credit counseling and debt management program in 2012, she was nearly $50,000 in debt. When she completed the program this past June, she had repaid what she owed and gained a host of new skills. But that's just the beginning of the story: In the past year, she's also become a passionate financial literacy advocate and is working toward new financial goals. So when Souder received the National Foundation for Credit Counseling® (NFCC®) 2016 Brighter Financial Future Award at the organization's annual NFCC Connect Conference in Arlington, VA, it came as no surprise.
This award is given each year to a client working with an NFCC member agency who has made an outstanding effort to overcome financial challenges and achieve financial stability.
A few years ago, divorce left Souder saddled with nearly $60,000 of unsecured debt. Many would have felt overwhelmed by this dilemma and perhaps even contemplated bankruptcy. Instead Martha diligently worked to repay her creditors. Over a 10-year period, she repaid $10,000 on her own, but she says, "I eventually realized that if I continued like this, it would take eons for me to finally become debt free. It is then that I realized that I needed help, serious and reputable help. After doing some research, I found Guidewell Financial Solutions. I selected them, because they were a nonprofit. Before my initial counseling session, I was worried and fearful, but I left full of hope after my very first meeting with my counselor Debbie. I finally had a practical plan for paying what I owed."
It took Souder 3-1/2 years to repay almost $50,000 – not that long considering that most debt management plans are set up for 5 years. Along the way she experienced additional financial hardship and challenges. During that time, she says, "It was tough, but I had constant support. After half a year, I received a congratulatory letter confirming that I'd been in the program for six months! This was really encouraging and helped me stay on course."
She also learned to manage her money. She says, "Before learning to budget, I used to avoid doing the bills, because I knew I'd probably overspent. That made me feel even guiltier, leading to even more spending. In the program, I learned to honor and respect money. I'm not perfect, but I control my finances now – they don't control me."
During her final year in the debt management plan, Souder gained a new role: she became a financial advocate. When Guidewell Financial called and asked if she'd be willing to share her story at the NFCC Sharpen Your Financial Focus national press conference in the spring, she wholeheartedly agreed. She tackled this assignment with the same zeal and dedication she followed to become debt free. She says, "I wanted to lead by example and let other financially struggling people know that when you're overwhelmed, there is no shame in asking for help."
Since becoming debt-free in June, Souder has enrolled in Guidewell Financial's financial coaching program. She says, "My goal in the next two years is to save toward a down payment on a home. It's exciting! So far I'm on track."
She has also joined the agency's Board.
Guidewell Financial CEO, Helene Raynaud applauds Souder's efforts. She says, "Martha is an inspiration to us all. She put in a lot of hard work and sacrifice to get where she is. She also shows what people can do once they have the financial tools and resources they need. Knowing that we help people like her gain financial wellbeing is one of the biggest rewards of our job."
To set up a confidential credit counseling appointment, call Guidewell Financial Solutions at 1-800-642-2227. Visit the agency's website to learn about its services.
About Guidewell Financial Solutions
Founded in 1966, Guidewell Financial Solutions (also known as Consumer Credit Counseling Service of Maryland and Delaware, Inc.) is an accredited 501(c)(3) nonprofit agency that helps stabilize communities by creating hope and promoting economic self-sufficiency to individuals and families through financial education and counseling. Maryland License #14-01 / Delaware License #07-01
About the NFCC
Founded in 1951, the National Foundation for Credit Counseling® (NFCC®) is the nation's first and largest nonprofit dedicated to improving people's financial well-being. With 600 member offices serving 50 states and Puerto Rico, its NFCC® Certified Credit Counselors are financial advocates, empowering millions of consumers each year.