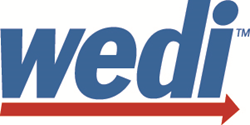 The future of health IT in our country is undoubtedly at a pivotal stage as we approach the upcoming election and build upon the technology advancements available to the industry.
RESTON, Va. (PRWEB) October 12, 2016
The Workgroup for Electronic Data Interchange (WEDI), the nation's leading nonprofit authority on the use of health IT to create efficiencies in healthcare information exchange, announced today the final agenda for its annual fall conference, WEDI-Con 2016. Taking place at the Hyatt Regency Reston in Reston, Va. from November 7-9, 2016, WEDI-Con will convene hundreds of top leaders in healthcare information technology seeking to engage in strategic discussions on the key regulations, implementation of best practices and the future of health IT in the U.S.
"The future of health IT in our country is undoubtedly at a pivotal stage as we approach the upcoming election and build upon the technology advancements available to the industry," said Charles W. Stellar, president and CEO of WEDI. "WEDI-Con is sure to be an exciting time for our industry as stakeholders from across the healthcare spectrum come together in a united front. We relish the opportunity to join these renowned thought leaders as they share best practices and guide the industry forward."
Each year, WEDI-Con attracts hundreds of healthcare leaders looking to network and collaborate with a diverse cross-section of the industry including payers, providers, government regulators and industry vendors. The three-day event will convene an expert roster of faculty to discuss such topics as payment reform, care coordination, social security number removal initiative, attachments, transactions, MACRA, telehealth, patient identification, among others. Below is a snapshot of some general and breakout sessions that attendees won't see anywhere else:

Accelerating Health Data Sharing for Better Care – Mariann Yeager, The Sequoia Project
The Evolving Role of the Leader of Technology at a Health System – Dr. Ryan Bosch, Inova Health System
Federal Initiatives; Surveying the Health IT Landscape – Joel White, Health IT Now; Dr. Mark Segal, GE Healthcare; Dr. Chantal Worzala, AHA; and Matthew Eyles, AHIP
Unique Device Identification and the FDA – Dr. Jeffrey Shuren, Center for Devices and Radiological Health Food and Drug Administration
Understanding Telehealth: Its Evolution, Overcoming Barriers and the Future of Care Delivery, an Interactive Forum – John Jesser, Anthem; Dr. Roy Schoenberg, American Well; Dr. Peter Rasmussen, Cleveland Clinic
The full conference agenda is available and updated regularly on the WEDI website.
Additionally, included with the conference registration is the Nov. 7 half-day forum on the most pressing needs in health IT cybersecurity. A collection of national privacy and security professionals will deliver a series of presentations focusing on cybersecurity issues, including: ransomware, developing cyber risk programs, the internet of things, and healthcare provider case studies. Speakers include representatives from the Office of the National Coordinator for Health Information Technology, U.S. Department of Health & Human Services, the Office for Civil Rights (OCR) and the Federal Bureau of Investigation.
WEDI offers educational participation certificates for WEDI-Con attendees, up to a total of 21.5 hours of education. For Monday's Cybersecurity Summit, attendees will be able to receive continuing education credits for Certified Chief Information Security Officer (C/CISO), Certified Information Systems Security Professional (CISSP) and Systems Security Certified Practitioner (SSCP).
The conference and pre-conference summit are open to all interested healthcare stakeholders across provider, payer, vendor and government entities. Both WEDI members and non-members can register online for the conference and/or summit with group and early registration discounts available.
Election Day is November 8. Visit https://www.vote.org/absentee-ballot for information on absentee ballots guidelines in each state.
About WEDI
The Workgroup for Electronic Data Interchange (WEDI) is the leading authority on the use of health IT to improve healthcare information exchange in order to enhance the quality of care, improve efficiency, and reduce costs of our nation's healthcare system. WEDI was formed in 1991 by the Secretary of Health and Human Services (HHS) and was designated in the 1996 HIPAA legislation as an advisor to HHS. WEDI's membership includes a broad coalition of organizations, including: hospitals, providers, health plans, vendors, government agencies, consumers, not-for-profit organizations, and standards development organizations.
-###-