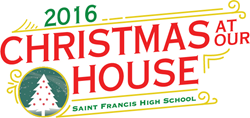 Mountain View, CA (PRWEB) October 12, 2016
What:
Saint Francis High School's annual fundraiser to benefit financial aid programs. This year's theme is "There's No Place Like Home for the Holidays," and will feature a special holiday boutique and student performances from the school choral, band, dance and theatrical programs. The boutique entry is free and will showcase artisans from around the Bay Area, including gourmet foods, artful jewelry, fine leather accessories, unique gifts, holiday and home décor. All events take place will take place at the Saint Francis High School campus in Mountain View.
When:
Thursday, December 1, 2016 -- The Christmas Gala from 6:00 - 10:00 pm
Price: $125 per person. Reservations required.
Holiday Student Showcase - Graham Theatre
Christmas party and exclusive holiday boutique – Burns Family Pavilion
Friday, December 2, 2016 -- The Friday Boutique from 1:30 - 8:00 pm
Price: Free.
Holiday High Tea in the Boutique. Reservations required.
Happy Hour in the Boutique.
Where:
Saint Francis High School Campus, 1885 Miramonte Ave, Mountain View, CA 94040.
More information can be found at http://bit.ly/2e56PR7
Press passes are available.
About Saint Francis High School
Founded in 1955 by the Brothers of Holy Cross at the invitation of the Archbishop of San Francisco, Saint Francis High School is a leading coeducational, diverse, Catholic, college preparatory school focused on educating the whole person. With a proven reputation for excellence in academics, athletics, activities and the arts, over 100 faculty members prepare approximately 1700 Saint Francis students for the rigors of college and the challenges of global citizenship in the enduring Holy Cross tradition. Graduating students attend the finest colleges and universities in the nation with 96.5% of the 2014 graduates admitted to a four-year university and 99% attending college. Saint Francis High School is located in Mountain View, Calif., approximately 35 miles south of San Francisco. For more information, visit http://www.sfhs.com.