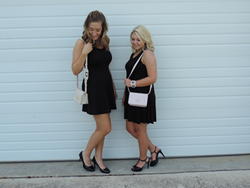 (PRWEB) October 13, 2016
88 is paving the way for unique fashion forward trends at an affordable price. The holiday collection is taking innovation to an entirely new level. Introducing The Convertible Bags. 88's new convertible bags allow customers to enjoy two bags in one at less than $50! This is great for both convenience and price. There are two different types of convertible bag styles in this collection: the Allie and the Chloe. The Allie converts from a clutch to a shoulder bag or a crossbody. The Allie also comes with an interchangeable top flap in a different pattern to seamlessly switch from day to night, or to simply change up your look. The top flap can be easily removed and converted into a whole other bag using the second flap and the removable shoulder strap. The second convertible bag in this collection is the Chloe, which is a crossbody bag that incorporates a detachable bracelet in the shoulder strap. This bag allows the customer to keep the bejeweled bracelet intact in the strap, or it can be removed and worn on the wrist to complement the bag. The new 88 convertible bags are fashionable, functional and unique. Perfect for transitioning through different occasions, these bags allow the purchase of one bag while being able to use it in several different ways.
In addition to the iconic convertible bags, the holiday collection is full of new styles, colors and design details. Some of these styles include classics like cross body's, satchels, clutches and bucket bags. A new backpack will be introduced this season, available in three gorgeous colors. Holiday staples such as black, red and blush will be seen, along with pops of blue, brown and white. Studs and chain accents will be making a comeback on several of the bags. New fabrics like lace, tweed and faux fur will be introducing themselves on a couple of styles. Some of the past season's best selling design details like croco and saffiano finishes will also be a part of this new collection. Longer sized straps will be available with the purchase of any bag as well. This new strap addition is catered to the plus sized community. Now, people of all shapes and sizes can enjoy an 88 crossbody bag.
Sticking to their vegan message, 88 will be using only vegan leather and faux fur to create this new collection of Handbags. Look great carrying a new, beautiful bag knowing that no harm was done to any animals in the process. A win-win for fashion lovers all over!
About 88:
88 is a collection of Vegan Handbags. 88 values the environment and wants to bring the best to their customers. The founder of 88 is a lifelong vegetarian and believes that the environment would benefit from the reduction of factory farming. The collection is designed by a team that works on designs for several brands worldwide. Bags designed to help you express your individual style, and to be useful in your daily adventures of life. 88 is known for having excellent quality at affordable prices. Each bag is individually constructed and tested for durability.
Another great thing about 88 is that they donate a percentage of every sale to a charity that assists in educating women around the world. They believe that educating women is the key to a better world. They are also starting a new campaign that will allow them to partner with different Vegan organizations to connect their brands message with their charitable mission.
The meaning of 88:
The number "88" is the number of constellations in the sky. Shuttle mission
88 started construction of the international space station finished in 1988.
In ham radio "88" is the sign off that means love and kisses. "88" is considered the luckiest number in Chinese culture as it sounds like "word for wealth". The snake swallowing its own tail is an ancient Egyptian symbol for the self-sustaining, self-contained universe. "88" represents the cycle of creation and recreation.
To learn more about 88 Handbags, go to: http://www.88-eightyeight.com
You may also visit their social media pages, listed below:
Instagram: @88.eightyeight
Twitter: @88_handbags
Facebook: @88handbags
Pinterest: @Eightyeight_88
Blog: https://88fashionblog.wordpress.com