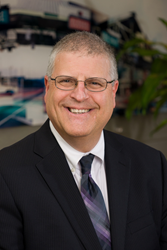 David's robust experience with project delivery makes him a tremendous addition to HNTB's Atlanta office as the firm continues to serve transportation clients working to relieve congestion in and around our area
ATLANTA (PRWEB) October 12, 2016
David Dye, PE, senior project director and vice president, moved to HNTB Corporation's Atlanta office from Dallas, to help lead major transportation investment programs planned in the fast-growing region.
Dye is former Deputy Secretary of the Washington Department of Transportation and an experienced manager of large-scale transportation programs. He has led highway mega-projects and other transportation programs in Georgia, Louisiana, Texas, Arkansas and Washington state.
"David's robust experience with project delivery makes him a tremendous addition to HNTB's Atlanta office as the firm continues to serve transportation clients working to relieve congestion in and around our area," said Jeff Parker, HNTB Atlanta office leader and vice president. "With a mind for program delivery and an understanding of both state and federal project delivery requirements, David's expertise will provide area transportation agencies with the creative solutions they need to deliver their transportation programs."
Dye leads HNTB's current contract as program management consultant for the Georgia Department of Transportation's Office of Innovative Delivery, which oversees major design-build and public-private partnership infrastructure projects. He has more than 30 years of experience in successfully delivering transportation mega projects and effectively managing complex programs. He is an expert in alternative project delivery and has experience with innovative project financing, managed lanes and tolling.
Dye is a member of the American Society of Civil Engineers and a licensed Professional Engineer in Georgia, Louisiana, Texas and Washington. He holds a Master of Science and Bachelor of Science in civil engineering from the University of Washington.
HNTB has been or is currently involved in several significant transportation projects in the Atlanta region, including 30 major highway improvement projects for GDOT, general planning consultation for Georgia Regional Transportation Authority and State Road and Tollway Authority, on-call transit planning and engineering for Metropolitan Atlanta Rapid Transit Authority and the GDOT Georgia Commute Options program.
About HNTB
HNTB Corporation is an employee-owned infrastructure solutions firm serving public and private owners and construction contractors. With more than a century of service in the United States and 48 years in in Atlanta, HNTB continues to grow in size and service offerings to clients, currently employing more than 120 full-time professionals in the Atlanta area. The firm understands the life cycle of infrastructure and addresses clients' most complex technical, financial and operational challenges. Professionals nationwide deliver a full range of infrastructure-related services, including award-winning planning, design, program management and construction management. For more information, visit http://www.hntb.com.