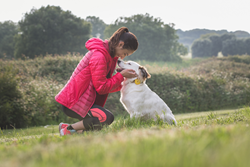 As pet owners, we wanted to create something that will not only prevent losing your pet, but also be the solution you need when it happens.
San Francisco, CA (PRWEB) October 12, 2016
Today, Findster Technologies, launched a crowdfunding campaign for their latest pet tracker. Findster Duo is designed to help track your pet's location and activity in real time using GPS without monthly fees. It is now available on Kickstarter starting at the early bird price of $89.
Findster Duo uses two physical modules: a Pet module and the Guardian module, which are wirelessly connected to each other and controlled via an app on your smartphone. The modules are rechargeable, lightweight and highly precise, and up to 5 Pet modules can be simultaneously connected to each Guardian.
"As pet owners, we wanted to create something that will not only prevent losing your pet, but also be the solution you need when it happens. However, existing solutions aren't complete. None of them offers true real-time GPS monitoring, yet they all require a contract and monthly fees, which is something that is completely outdated." said Co-founder and CEO David Barroso. He adds, "Imagine if Fitbit required you to pay a monthly fee to use their trackers. Location and activity are essential factors to maximize our pets' well-being, and we wanted to cover both to originate the next generation of GPS trackers."
Findster Pets' MAZE technology, developed by the team, allows both modules to communicate wirelessly, eliminating the need for a cellular connection to obtain the GPS coordinates and the need for monthly fees.
Among its notable features Findster Duo includes:

Security Fences: Set up Security Zones (where you want your pet to stay) and Danger Zones (where you want your pet to avoid). If either type of fence is breached, you are immediately alerted, giving you time to react.
Remote monitoring: Using the App, you can share access to your pet with your family and friends and monitor his safety from anywhere – or even make sure your Pet Walker is not just talking the talk, but actually walking the walk.
Challenges and Leaderboards: Connect with others users around the world and track your progress on the leaderboard to help you continue being active.
Rewards and discounts for activity: Findster Duo now measures each step and mile your pet walks, and rewards you with discounts on their favourite food when milestones are achieved.
In addition, Findster Duo features better GPS precision at a faster update rate, a longer battery life and twice the communication range (now up to 2 miles) than the previous Findster product.
"Findster Duo is the culmination of 2 years of work. When we first introduced it in 2014 we invited our backers to submit their comments, and tips for further improvement," said David. "Based on their feedback, we've added several new features including a new reward system which encourages owners and pets to be more active and healthy."
Findster Duo's Kickstarter campaign runs from October 12 to November 24 and Early Bird perks are set for delivery before Christmas. For a full rundown of the pledge levels visit their Kickstarter.
About Findster Technologies
Findster Technologies is a venture-backed startup, founded by a mix of engineers and designers with a passion for developing products that have a direct impact on people's lives. In 2014, the company introduced Findster, the first GPS tracker without monthly fees for kids and pets. The project was successfully funded on Indiegogo, with more than 1200 backers from over 50 countries. After developing, producing and delivering Findster, the team centered their efforts on collecting feedback from users in order to conceive the next generation of GPS trackers, originating Findster Duo.
Part of the European Space Agency (ESA) incubation program, since 2016 Findster is also alumni of HAX - the world's #1 Hardware Startup accelerator.
Video: https://vimeo.com/186242577
Press Kit: getfindster.com/mediakit
Media Contact
Jackson Wightman
Proper Propaganda
(514) 605 9255
jackson(at)properpropaganda(dot)net