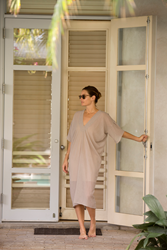 The collection is meant to travel with you from one climate to the next with ease and comfort.
Houston, TX (PRWEB) October 19, 2016
Following the success of their spring unveiling, MIRTH Caftans is to launch a Resort 2017 collection. These caftans and travel dresses will be available on-line starting October 31st and available in stores starting November 1st. This second collection features caftans for warm climates as well as cozy caftans meant for layering for winter and transition season.
The 15 piece collection introduces fine and soft wool/silk and handwoven cotton fabrics from India meant to transition from crisp days to cozy nights as well as from weekend trips to brunch at home. The styles can be layered with jackets or over jeans. Holiday travelers will find pieces to pack for easy style in warm destinations. The addition of tassel belts throughout the collection adds to their versatility in both fit and style. The collection also features a special hand weave called jamadani, which has been practiced in India for hundreds of years. This style of fabric requires incredible weaving skill and is very time intensive, thus making it truly unique and special.
Several fabrics are handloomed by a women-run artisan cooperative in central India, and more are woven in the homes of women in small villages. Handmade Edition caftans are limited edition and crafted from artisan-made fabrics, made using methods passed down for generations. MIRTH aims to help sustain these ancient arts, and connect the artisans and their skills to the world.
The collection is meant to travel with you from one climate to the next with ease and comfort. Caftans for wandering, lounging, celebrating and being. For more information visit mirthcaftans.com.
About MIRTH
The concept of MIRTH caftans was created by two sisters, Katie McClure and Erin Breen, on an elephant ride in the Indian desert outside of Jaipur. Launched in 2016 and headquartered in Houston, MIRTH creates ethically crafted caftans and travel dresses featuring aritsan made textiles. With MIRTH's modern take on the caftan, the MIRTH customer can easily go from beach to town to dinner. Their partners in India receive fair wages and hours, training and education, and a safe and pleasant work environment. A portion of each sale is donated to support the Naam Dev School in Bagru, India.
MIRTH's mission is clear: do something with a purpose. Incorporate the essence of travel. Create a product to love. Affect lives in a positive way. MIRTH invites you to live a slow life. Life without an agenda. Wear a caftan to explore or wear one to slow down. Feel good, wherever you are.
For more information, visit http://www.mirthcaftans.com or call 512.825.0151