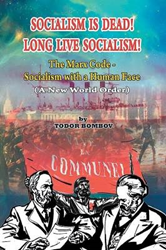 'This timely book on economics takes an in-depth look at the history of socialism and what the term means today.' - Robert Fletcher, CEO of Strategic Book Publishing and Rights Agency
(PRWEB) October 14, 2016
Webster's defines socialism as "a way of organizing a society in which major industries are owned and controlled by the government rather than by individual people and companies."
Author Todor Bombov says, "No, this is not socialism!" He puts a "human face" on socialism, saying, "From 1917 to 1991, the totalitarian system in USSR and East Europe was called socialism, and even by the scientific nonsense and absurd names of communism and communist system. In this system, the official ideology was allegedly Marxism, but really, it could not endure any Marxist criticism. There was never any socialism anywhere!"
His book, "Socialism Is Dead! Long Live Socialism!," is divided into two autonomous parts. The first book, "The State," represents a radically new political system of society, one which is the most democratic system ever made. This is a completely new society, a real civil society, which otherwise in the capitalist system could only be called a utopia.
The second book, "The Economic Theory of Socialism," represents the only sequel to "Capital," the great work by Karl Marx. The economics of socialism make Marx's brand of socialism completely possible, and it shows that socialism is a more effective economic system than capitalism. All of this adds up to a fascinating read about global economic politics.
Watch the video at: https://youtu.be/2KGPBqZ3jE0
About the Author: Todor Bombov lives in Varna, Bulgaria, the town called the Pearl of the Black Sea and where today's civilization arises from.
Robert Fletcher, CEO of Strategic Book Publishing and Rights Agency, stated, "This timely book on economics takes an in-depth look at the history of socialism and what the term means today. We are proud to announce its release."
Socialism Is Dead! Long Live Socialism! The Marx Code - Socialism with a Human Face: (A New World Order) (ISBN: 978-1-62857-266-7) is now available for $16.50 and can be ordered through the publisher's website: http://sbpra.com/TodorBombov or at Amazon.com or Barnesandnoble.com.
Wholesalers: This book is distributed by Ingram Books and other wholesale distributors. Contact your representative with the ISBN for purchase. Wholesale purchase for retailers, universities, libraries, and other organizations is also available through the publisher; please email bookorder(at)sbpra(dot)net.