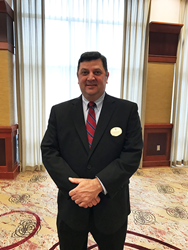 Morgantown, WV (PRWEB) October 13, 2016
Waterfront Place Hotel is pleased to announce the addition of J. Ashley Smoak to their team as the new Director of Catering for the hotel and the adjoining Morgantown Event Center. Most recently the Executive Chef of Snowshoe Mountain Resort in West Virginia, Smoak joins the team with over thirty years of food and beverage experience. Smoak began his career in the food and beverage industry as the Executive Chef of Battletown Inn in Berryville, VA. Since then, Smoak has worked for various restaurants and hotels in the Executive Chef, Food and Beverage Director, and Consultant roles.
Before his most recent role as Executive Chef of Snowshoe Mountain Resort, Smoak was the Regional Director of Food and Beverage for HRI Lodging, Inc. During his time there, Smoak worked in conjunction with twenty-three full-service hotel General Managers to establish policies, monitor financial and service results, and create and distribute food and beverage budget assumptions. Throughout his career, Smoak has been directly responsible for concept development, recruitment and training of staff for full-service and quick-service restaurants, overseen catering operations, established policies and procedures, and much more.
As Director of Catering for Waterfront Place Hotel, Smoak will oversee the catering team; promote, plan and execute social events, business meetings, and private banquets; and direct the administrative and operational aspects of the events.
Located along the Monongahela River in Morgantown, WV, Waterfront Place Hotel offers guests a beautiful, full-service experience throughout their stay. With 205 deluxe guestrooms and plentiful amenities, Waterfront Place is perfect for both business and leisure travelers. Guests may enjoy free high-speed Internet, an indoor pool, state-of-the-art fitness center, on-site dining at Regatta Bar & Grille, and more. Accommodations include king or double queen rooms, rooms with beautiful river views, suites, and accessible rooms available upon request.
With over 50,000 square feet of meeting and event space, Waterfront Place Hotel is perfect for conferences, meetings, weddings, and special occasions. Conveniently located five minutes from downtown Morgantown, Waterfront Place is a mile from West Virginia University and within easy driving distance to local golf courses, wineries, and more.
Waterfront Place Hotel will be joining the growing Marriott family as Morgantown Marriott at Waterfront Place in early 2017. Guests will be able to enjoy all the benefits and amenities that Marriott hotels have to offer with the same great hospitality, location, and reputation.
For more information and to make a reservation, please visit http://www.waterfrontplacehotel.com or call (304) 296-1700. Waterfront Place Hotel is proudly managed by Stonebridge Companies in Denver, Colo.