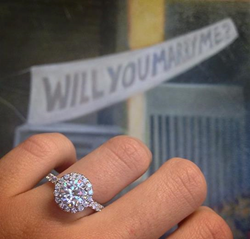 Seattle, Washington (PRWEB) October 12, 2016
Robbins Brothers, The Engagement Ring Store, will unveil a brand new location in Bellevue on Thursday, October 13, 2016. The 4,000 square-foot-store located in the Venn building at 33 Bellevue Way, will be home to an array of well-known bridal jewelry brands including Tacori, Simon G., Verragio, Henri Daussi, Michael M, Lashbrook and more. The bigger location will offer more inspiration and convenient shopping for the consumer with new collections such as Little Bird which features colored gemstones; Equalli, a selection of unique and symbolic wedding bands; and Expressions, a collection for shoppers who desire a creative custom piece that will be available within two to three weeks.
Robbins Brothers in Bellevue will also stock an assortment of eco-friendly E3 diamonds that are lab grown and conflict-free, as well as Northern Lights, the retailer's exclusive Canadian diamond collection. Every Northern Lights diamond comes with a Certificate of Origin proving it is mined, cut and polished in Canada—which has the strictest environmental regulations and a commitment to social responsibility.
A grand opening celebration and first-look for media will take place on Thursday, October 20 from 6 to 8 p.m. at the new Bellevue location. The evening will be hosted by Seattle lifestyle bloggers Cassandra LaValle of Coco Kelley and Sydney Mintle of Sydney Loves Fashion. Guests are encouraged to follow the grand opening celebration on Instagram @RBbellevue using the official hashtag #FirstLookBellevue.
The grand opening festivities continue over the weekend October 21-23 for the "Love is Sweet" event featuring special 30-month financing, sweet treats from Trophy Cupcakes, swag bags, raffle prizes, and more.
GRAND OPENING FACT SHEET

Robbins Brothers will relocate from its current location in Bellevue at 10429 NE 2nd St. to 33 Bellevue Way.
The new store is located in the Venn Building as is 4,357 total square feet
Specializing in the "engagement diamond"
o Echo diamond- mined, exclusive to Robbins Brothers, 98 hand-cut facets
o Northern Lights diamond – from highest quality mines in the frozen Canadian tundra
o E3 diamond- lab-grown, eco-friendly

Designer Destination (Tacori, Simon G., Verragio, Coast Diamond, Henri Daussi, Michael M., Lashbrook & more)
New Collections for the Robbins Brothers Bellevue store include:
o Little Bird - Today's woman is creative and expressive. Little Bird features beautiful colored gemstones such as peach morganite, blue topaz and yellow beryl, set in 14 Karat gold. From asymmetrical designs in mixed metals, to vintage settings, each ring features a unique look for today's unique bride.
o Equalli - Celebrating love and beauty in all its forms, these wedding rings/bands are crafted one-of-a-kind pieces with impeccable attention to detail. Set to last a lifetime and bring joy to all the milestones of your life.
o New men's rings from Lashbrook
Bellevue Store Opening Events

Robbins Brothers Bellevue Social Media

Robbins Brothers Bellevue (new location!)
33 Bellevue Way NE
Bellevue 98004
425.635.7464
About Robbins Brothers
Robbins Brothers, an engagement and wedding ring store, has freestanding destination locations in California, Texas, Washington and Arizona. Specializing in engagement ring settings and loose diamonds, Robbins Brothers carries an extensive selection of wedding bands, promise rings, anniversary bands, three-stone rings, earrings, pendants and bracelets. On-site jewelers are available to help clients set diamonds, create custom-settings, and perform service and maintenance checks. Learn more at http://www.RobbinsBrothers.com.