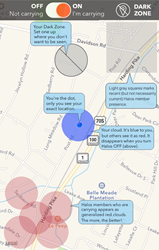 "Over 13 million Americans have a concealed carry permit today, with Halos, they are now a powerful deterrent to crime"
Jackson, WY (PRWEB) October 18, 2016
Halos Force LLC, has released Halos v2.0, which is now available on the iTunes store.  Halos produces maps that identify the general location of citizens who legally carry handguns.
"We believe that all citizens have a right to personal safety," said Halos founder, Dan Cook. "Knowing the general location where people are armed will bring great comfort to those interested in their personal safety."
Since the company's launch this past July, thousands of individuals, who legally carry concealed handguns, have downloaded the Halos application. The new Version 2.0, allows non-carriers access to Halos' maps.  
Halos was founded on the belief there is safety in armed numbers. Knowing where the armed good guys are located (or aren't) both improves the safety of its users and provides a strong deterrent to criminals.  Effective today, all U.S. citizens are now able to view the approximate location of handgun carrying Halos members within a 50-mile radius of their location. 
Another new feature in v2.0 depicts what Halos calls "Trace". Trace is a shaded grid over the Halos map that indicates if Halos members have been in a certain area during the past 24-hours.  Trace also provides a historic perspective of member activity that supports the real-time nature of Halos member mapping.   
Annual membership to Halos is $1.99/year. However, early adopters can receive their first year's membership at no charge.  An Android version of Halos is forthcoming.
=========================
About Halos Force LLC
Halos Force was founded in 2016 for the purpose of creating a mobile mapping application giving U.S. citizens the tools to both enhance their personal safety and deter crime through the visual representation of legally armed citizens in their community. For more information: http://halosforce.com, Twitter (@halosforce),  Facebook (http://www.facebook.com/halosforce/).