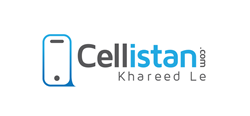 Pakistan (PRWEB) October 21, 2016
Cellistan.com, today, officially announces the launch of iPhone 7 and iPhone 7 Plus models in Pakistan. The sale is due to begin on 22 October 2016 and will be shipped on the same day anywhere in Pakistan. The iPhone 7 is the most advanced phone to be ever launched by Apple and is packed with multiple advanced features to attract high sales number around the nation.
The initial sale price of the iPhone 7 will range from 80,000 PKR for the 32GB silver, gold and rose gold model, whereas the new Black finish can be fetched at a cheap rate of 85,000 PKR. On the other hand, the iPhone 7 Plus silver, gold, rose gold and black would be available at 102,000 PKR.
'Cellistan is the place to buy your mobiles from' said the founder of Cellistan Harris. 'Cellistan.com is the cheapest place to buy the iPhone 7 online, cheaper than buying from a shop infact. We aim to provide a trusted service that the Pakistan customers can rely on and are aiming to source the phone at much cheaper rates in the future to pass the savings to the buyers.'
Cellistan.com is offering free delivery in the vicinity of Islamabad with delivery time within hours. For other cities like Karachi, Lahore, Peshawar and Faisalabad the shipping timings can range from 1-3 days.
Cellistan is putting consumers trust before anything, so it will be offering Cash of Delivery service of the iPhone 7 and the iPhone 7 Plus. Cellistan also accepts Bitcoin which is an added feature for the cell phone buyers around Pakistan.
The iPhone will be launched with a new advanced camera system. As advertised Pakistani users will be able to enjoy a 12 Mega Pixel Camera which comes with an auto stabilizers for those shaky hands. The super-fast camera uses Machine Learning which makes it superior to models that precede it.
Not to forget the new customized Apple A10, 4 core Fusion chip that enables ultimate graphics requiring half of the power than it did before. The speakers will also have the feature of being used as an audio device offering dynamic sound quality for all those Bollywood songs that the Pakistan customers might be interested in. Other features include, the water splash proof feature - making iPhone a little more irresistible to buy than before.
About Cellistan.com
Launched in 2016, Cellistan.com is an online retailer working to supply every Pakistani with a mobile device. Featuring smartphones, tablets, and other electronic devices from popular retailers such as iPhone, Samsung and Lenovo, the website's low prices provide an option for every consumer. Cellistan.com provides shipping throughout Pakistan and a no hassle seven-day return policy with unbeatable mobile prices in Pakistan.