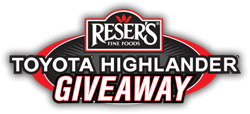 My mother and grandmother entered contests for years. But their biggest prize was a coffeemaker
Kansas City, KS (PRWEB) October 12, 2016
Reser's Fine Foods, a sponsor of the Joe Gibbs Racing No. 20 XFINITY Series team and driver Erik Jones, is proud to announce the grand prize winner of the "RESER'S TOYOTA® HIGHLANDER® GIVEAWAY" sweepstakes. Theresa Holcomb from Owensboro, Kentucky is the lucky winner of a brand new vehicle and will also get to meet Reser's Racing driver Erik Jones on October 15th in Kansas.
"We received more than 500,000 entries," states John McCarthy, category manager for Reser's.
"My mother and grandmother have entered contests for years. But their biggest prize was a coffeemaker," states Ms. Holcomb, a college student. "They were blown away that I won—and can't wait for me to chauffeur them around." She adds, "We're a Toyota family. Mom drives a Camry and my aunt and uncle also drive Toyotas. So a new Highlander will fit right in!"
"Reser's Toyota Highlander Giveaway" Grand Prize includes:

2016 Toyota® Highlander® LE Plus™
VIP Race Package to meet Erik Jones with behind the scenes race day access and tickets
Airfare, hotel and more
For complete details and official sweepstakes rules visit http://www.ResersRacing.com
Reser's Fine Foods
Family owned and operated, Reser's is the leading provider of fresh refrigerated deli salads, side dishes and prepared foods. For more than 65 years, Reser's has been making fun times easy and affordable for every family. Reser's famous deli salads are a family favorite at the race track, picnics, BBQs and tailgates. Founded in 1950, the company remains committed to providing delicious refrigerated foods for the supermarket and food service industries. Reser's operates 18 facilities in the United States and Mexico and employs more than 4,000 employees in the United States, Mexico and Canada. Visit http://www.resers.com.