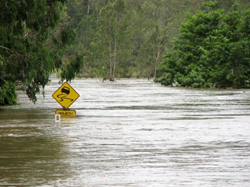 Santa Cruz, California (PRWEB) October 13, 2016
The owners of private household water wells in areas threatened by Hurricane Matthew flooding should act to address possible threats to their drinking water quality, the National Ground Water Association said today.
If a well has been flooded:

Do not drink the water or wash with it, but use an alternative supply such as bottled water
Stay away from the well pump while it's flooded to avoid electrical shock
Get a qualified water well contractor or pump installer to clean and turn on the pump, flush the well, disinfect the well, and perform any other necessary maintenance.
Check with the local emergency management agency about any guidance relating to local conditions or specific contamination threats due to area flooding.
Bacterial contamination is to be expected in a flooded well, so disinfection of the well system after it has been pumped out and cleaned will be necessary, said Cliff Treyens, NGWA director of general public outreach. NGWA recommends that water well system professionals be used to assess and service the well.
Well owners can search for NGWA-member or NGWA-certified professionals at WellOwner.org under "Finding a Contractor."
It is estimated that over 45 million Americans or about 15% of the population, get their water from privately owned non-public ground water wells. These private ground water wells can provide clean, safe, potable water.
However, if the well is covered by flood water, the well water can become contaminated, leading to disease and illness. It is the responsibility of well owners to maintain and treat their well waters themselves if a flood event occurs.
Clean Water Systems has recently updated its comprehensive report on well water flooding "What To
Do If Your Well Is Covered By Flood Water" on its website http://www.cleanwaterstore.com, and is offering it free of charge.
When flood water covers residential water well, damage can occur to the well and the well may become contaminated with bacteria. Many wells are not tightly sealed or protected from flood water and flood waters can enter the well and contaminate it with bacteria, parasites and viruses.
Fast moving flood water can move large debris such as trees and building materials, which can damage the well head, piping and electrical system. Sand and other debris pouring into the well can cause pump wear and pumping problems.
Sewage from damaged septic tanks, chemicals from agricultural operations, and other contaminants can be carried by the flood water and cause the well to become contaminated.
The three primary threats from a well what has been covered by flood waters are:
1. Danger of electrical shock.
2. Contamination by bacteria and viruses.
3. Damage to well pump, pressure tank, pipes and electrical.
The new guide "What To Do If Your Well Is Covered by Flood Waters" offers consumers on well water a step by step easy-to-follow guide if their well is flooded.
Topics covered include:
What should I do if my well is covered by flood waters?
How can I know if my water is safe to drink or not?
Emergency Disinfection For Flooded Wells
Shock Chlorination Using Chlorine Bleach
What To Do If You Have an Existing Water Softener Or Filtration System
Sampling & Testing Well Water After a Flood
Important Warnings & Guidelines for Flooded Wells
Many homeowners use various types of water treatment systems such as water softeners, iron filters, and nitrate filters to treat their well water. If the well is flooded and becomes contained with coliform bacteria, the treatment system in the home can then become contaminated. It is critical for homeowners to sanitize these systems or hire a professional that can make sure their water softener or filter is properly sanitized.
If the well has been covered by flood waters, filter systems and water softeners should be bypassed or shut off and not used. If they are kept in service and used, then the systems should be thoroughly disinfected prior to being used for drinking or bathing. Filter cartridges should be removed, discarded and replaced with new cartridges.
Clean Water Systems & Stores specializes in treating ground water in North America and has over 14,000 customers in over 40 countries. The company provides custom water treatment systems and products in a large variety of different types and configurations including systems for removing iron, manganese, sand, odors, bacteria, turbidity and sediment.