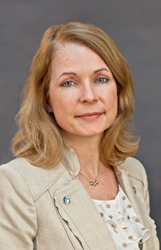 Washington, D.C. (PRWEB) October 12, 2016
Cornerstone Research, a leading provider of economic and financial consulting and expert testimony, announced today that Jennifer Marietta-Westberg has joined the firm as a senior economist. Marietta-Westberg previously served as the deputy chief economist and deputy director of the Division of Economic and Risk Analysis at the U.S. Securities and Exchange Commission.
"Jennifer brings extensive experience in securities regulation related to reporting companies, broker-dealers, hedge funds and investment advisors," said Cornerstone Research President and CEO Michael E. Burton. "Her knowledge of the regulation of financial markets and trading practices is a major asset to our clients and our firm."
Marietta-Westberg worked for 10 years at the SEC in several capacities. She managed the provision of economic analysis in support of Commission policy and rulemaking in the areas of asset management, broker-dealers, credit rating agencies and market microstructure. She oversaw many of DERA's economic analyses in support of international initiatives.
Prior to joining the SEC, Marietta-Westberg was an assistant professor at Michigan State University. Her research has been published in the Journal of Accounting and Economics, the Journal of Corporate Finance and European Financial Management.
About Cornerstone Research
Cornerstone Research provides economic and financial consulting and expert testimony in all phases of complex litigation and regulatory proceedings. The firm works with an extensive network of prominent faculty and industry practitioners to identify the best-qualified expert for each assignment. Cornerstone Research has earned a reputation for consistent high quality and effectiveness by delivering rigorous, state-of-the-art analysis for over 25 years. The firm has 600 staff and offices in Boston, Chicago, London, Los Angeles, New York, San Francisco, Silicon Valley, and Washington.