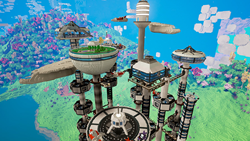 Paris, France (PRWEB) October 12, 2016
Filled with emotion, French independent video game developer Cubical Drift, announced today the early access release of Stellar Overlord with the same joy and excitement one would experience when walking off to their first day at school. Finally, the time has come for explorers from all over the world to jump into the Stellar Overlord universe.
While 20,000 players from the community were waiting with impatience for this milestone, the eleven strong gaming fanatics team has been burning the midnight oil for more than a year to deliver the best experience possible. Available as an alpha version during the past twelve months to kickstarter backers and at the same time financially supported by the French National Center of Cinematography and the Moving Image (CNC), Stellar Overlord is effectively available as an early access version on Steam.
A satisfying mix of adventure and building gameplay mechanics wrapped around a solid sci-fi storyline, sprinkled with RPG and combat sequence elements, Stellar Overlord shines a new light in a fast-paced trailer scored by composer Charles Bardin, aka Wonder B, aka «Charles d'After Bit», aka the man with a thousand nicknames. Players will discover a voxel world breathing with a progressively changing atmosphere, where the looming threat of the Imperium Machina will force them to make good use of their jetpack and block-thrower. In addition to the story mode and its missions, based on exploration and FPS segments, playable in single player or in multiplayer co-op, players will have to put all of their building abilities into practice, using to their advantage the blocks making up the environment.
To view the trailer, click on the link below
http://bit.ly/2duR2X7
CHARACTERISTICS
Genre : Adventure, Building, FPS
Platform : PC Windows
Developer/Publisher : Cubical Drift (France)
RECOMMENDED SPECIFICATIONS
Operating System : Windows 10 64-bit
Processor/CPU : Intel Core i7-3770K or AMD FX 8350 Wraith
RAM : 16GB
Graphics/GPU : AMD Radeon RX 480 - 1920x1080 or NVIDIA GTX 970 – 1920x1080
About Cubical Drift
Cubical Drift, in operation since 2014, is an independent French developer and publisher of video games which feature next-generation voxel technology. Created by Michel Thomazeau, keystone of this cubic creative emulation, the company is comprised of brilliant personalities including: voxel technology expert Fabien Perrot, musician Charles Bardin, and 3D pixel artist Alexandre Rey. The company is the creator of Stellar Overload (formerly Planets³), a futuristic adventure game set on cubical planets with a community of more than 20,000 players worldwide.
For more information visit the Stellar Overload website.
Download Stellar Overlord artwork here
Download the trailer
To request a review code, please email damien(at)homerunpr.com.