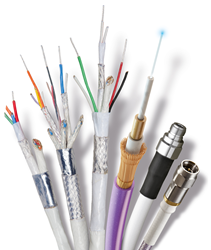 PLEINFELD, GERMANY (PRWEB) October 12, 2016
W. L. Gore & Associates, Inc. (Gore) will be featuring their full line of high-performance GORE® Aerospace Cables at the 2016 APEX (Airline Passenger Experience Association) Expo, 24-27 October, Singapore, Booth 1649.
Gore continues to engineer innovative solutions that meet the civil aerospace industry's increasing demand for faster digital networks, more power performance, higher-quality in-flight entertainment and connectivity (IFEC), improved fuel efficiency, and less maintenance and downtime.
Products that will be highlighted at the expo include GORE® Aerospace High Speed Data Cables that deliver faster data transmission over longer distances while supporting new and standard protocols such as fiber optics, HDMI, USB and more. GORE™ Leaky Feeder Antennas provide reliable and constant connectivity to a variety of wireless systems, including picocells for mobile phone coverage and access points for airborne Wi-Fi.
Gore will also be highlighting its collection of microwave airframe assemblies such as GORE-FLIGHT™ Microwave Assemblies that reduce cable replacement costs by maintaining the lowest insertion loss before and after installation, during use, and over time. GORE® Microwave/RF Assemblies deliver precise radio frequency for Ka, Ku and L band antenna applications.
From the cockpit to the tail, Gore's small, lightweight yet durable solutions deliver failure-free performance in the harshest aerospace environments over the life of the aircraft. For more information about GORE® Aerospace Cables, visit Booth 1649 at the APEX Expo or online at gore.com/apex2016.
About W. L. Gore & Associates
Gore is a technology-driven company focused on discovery and product innovation. Well known for waterproof, breathable GORE-TEX® fabric, the company's portfolio includes everything from high-performance fabrics and implantable medical devices to industrial manufacturing components and aerospace electronics. Founded in 1958 and headquartered in Newark, Del., Gore posts annual sales of more than $3.2 billion and employs approximately 10,000 associates with manufacturing facilities in the United States, Germany, the United Kingdom, Japan and China, and sales offices around the world. Gore is one of a select few companies to appear on all of the U.S. "100 Best Companies to Work For" lists since the rankings debuted in 1984. The company also appears regularly on similar lists around the world. Learn more at http://www.gore.com.
GORE, GORE-TEX, GORE-FLIGHT, and design are trademarks of W. L. Gore & Associates.