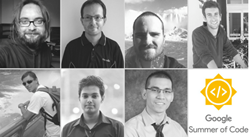 "Moodle's involvement in the program really aligns with our values of being open source, enhancing access to education and encouraging innovation."
PERTH, Western Australia (PRWEB) October 12, 2016
Since 2006, staff at Moodle - the world's open source learning platform - have mentored aspiring open source contributors through the Google Summer of Code (GSoC) program.
This year, the tradition continued with four developers from Moodle HQ volunteering to guide students from Sri Lanka, Canada, India and Romania on innovative projects that resulted in new features and plugins for potential implementation in future Moodle releases.
David Mudrák, Developer and Community Development Liaison at Moodle HQ, coordinated this year's participation in GSoC and commented on the mutual benefits for staff and students for being involved in the program.
"Moodle HQ has been involved in Google Summer of Code since 2006 and every year developers volunteer for the opportunity to mentor students," said Mr Mudrák.
"Moodle's involvement in the program really aligns with our values of being open source, enhancing access to education and encouraging innovation."
"This year, our students, with their mentors, worked hard on some very interesting projects that could enhance Moodle's open source software."
Together with other Moodle staff Mark Nelson, Juan Leyva and David Monllao, Mr Mudrák mentored (respectively) students Joey Andres (University of Alberta, Canada), Devang Gaur (Maharaja Surajmal Institute of Technology, India), Supun Wanniarachchi (Informatics Institute of Technology, Sri Lanka) and Alexandru Elisei (University Politehnica of Bucharest, Romania).
"Moodle developer Mark, based in Australia, worked with Joey on a project to give Moodle users the ability to crop, resize and rotate images in Moodle's default text editor," explained Mr Mudrák.
"David, who is also based in Australia, mentored Devang on creating codes that extend the scope of global search to more Moodle components."
"Juan, our Moodle Mobile team leader in Barcelona, harnessed Supun's enthusiasm in the mobile environment to add support to end-to-end testing in the Moodle Mobile app."
Mr Mudrák himself had the opportunity to work with Alexandru to develop plugin skeleton, providing templates for all existing plugin types in Moodle and help developers with repetitive work at the beginning of plugin development.
The projects will now undergo more testing and small improvements to be considered for implementation in future Moodle releases.
"As you can see, all four open source projects have the potential to enhance learning for Moodle users and assist developers in their work," commented Mr Mudrák.
"Involvement in this program does advance education, opportunities and the open source movement and we at Moodle look forward to new intake for the 2017 Google Summer of Code program."
To end the 2016 Google Summer of Code program, two of Moodle HQ staff and mentors - Mark Nelson and David Monllao - have been invited to join the Google Mentor Summit. The Summit is a three day 'unconference' at Google HQ in Northern California.
About Moodle
First released in 2001 by Martin Dougiamas, Moodle has provided educators, workplaces and businesses with powerful tools to manage and promote learning online. Today, Moodle is the most widely used learning management system in the world, with over 80 million registered users in more than 230 countries. Supported by a global network of 85 certified Moodle Partnerships, the Moodle learning management system continues to offer collaborative and innovative online learning technology to a global audience. For more information, visit http://moodle.com
About Google Summer of Code
Google's Summer of Code (GSoC) is a global program focused on bringing more student developers into open source software development. Students apply to work with an open source company on a three month programming project during their break from school. Since its inception in 2005, over 10, 000 students in over 103 countries have developed 50, 000, 000+ lines of codes.