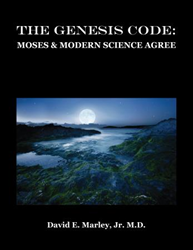 The Genesis Creation Account is both religion and science
Allison Park, PA (PRWEB) October 14, 2016
Within the pages of David E. Marley, Jr. M.D.'s new book, THE GENESIS CODE: Moses & Modern Science Agree, ($47.99, paperback, 9781498462815; $9.99, e-book, 9781498462822) readers will discover a book about origins. It focuses on what the Bible says, and what science now says about the origins of life. It is also a book about belief and faith in God, and encouraging readers to live their lives in God's Way.
Modern science is now well equipped to answer many questions about the origins of the Universe, but Dr. Marley doubts whether science can ever answer three questions: Where do we come from? What are we? Where are we going? He believes that science can only take humans so far and only belief and faith in God can take them to the places that science can never go. This book examines these questions and gives answers that come from Judeo-Christian belief and faith.
According to Dr. Marley, the type of evolution described in the Bible is different from Darwin's scheme. Modern science has disproved Darwin's ideas and has now verified the Bible's description of evolution that has been unveiled by the deeper meaning of the Hebrew script of the Mosaic Creation Account – what the author calls "the Genesis Code."
"The Genesis Creation Account is both religion and science," states the author. "There was a beginning. The Oral Torah first proclaimed it 5,700 years ago. The Written Torah proclaimed it 3,300 years ago. Science has now proved the Bible correct. This is an inconvenient fact that atheists and anti-theists refuse to hear. While science has proved there was a beginning, science cannot prove, or disapprove, the existence of God. Belief in God will always be a matter of faith."
Now retired, Dr. David E. Marley, Jr. is a board-certified Radiologist with 40 years experience in medicine. He practiced Diagnostic Radiology, Nuclear Medicine, and Radiation Therapy. He earned his BS degree from the University of Alabama, at Tuscaloosa, and his MD degree from the University of Alabama School of Medicine in Birmingham. His Radiology Residency was served at Scott and White Memorial Hospital, and the Scott, Sherwood, and Brindley Foundation in Temple, Texas. For four decades, he used radiant energies to diagnose and treat patients. He is uniquely qualified to understand and teach the intricacies of the Big Bang Theory – which is the most credible theory of the beginning. A life-long Christian and student of the Bible, he is also a certified Bethel Bible Series teacher who, for three decades, has taught the Bethel Bible Series.
Xulon Press, a division of Salem Media Group, is the world's largest Christian self-publisher, with more than 15,000 titles published to date. Retailers may order THE GENESIS CODE: Moses & Modern Science Agree through Ingram Book Company and/or Spring Arbor Book Distributors. The book is available online through xulonpress.com/bookstore, amazon.com, and barnesandnoble.com.
Media Contact: David E. Marley, Jr. M.D.
Email: demarley(at)aol(dot)com