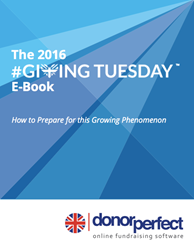 Last year, #GivingTuesday broke a Guinness World Record for the most online donations in 24 hours, with people donating almost £90million globally.
London, UK (PRWEB UK) 9 November 2016
Giving Tuesday: Celebrating generosity around the world.
What Is Giving Tuesday?
#GivingTuesday is a global day to share our blessings with others. Founded in 2012 by New York City's 92nd Street Y, in partnership with the United Nations, the event is held on the Tuesday following Black Friday and Cyber Monday. In 2016, Giving Tuesday is scheduled for November 29.
Everybody should take a break from the commercialisation and consumerism that permeates the holiday season, and do good for others. The #GivingTuesday movement has caught fire across the globe including US, Canada, Australia, Germany, Spain, Singapore, Brazil, and Israel all participating.
Last year, #GivingTuesday broke a Guinness World Record for the most online donations in 24 hours, with people donating almost £90million globally.
The UK joined the Giving Tuesday movement in May, 2014. Last year, online donations raised £6,000 a minute for UK charities with more than 1,400 organisations and businesses participating.
Not-for-profits to change their attitude and boost donations
Some not-for-profits are concerned that donors may not buy into the concept of a designated day of giving. They worry that the prospect of additional donations may not justify the added time and efforts necessary to make the day successful. They're afraid that Giving Tuesday will simply take away from other end-of-year campaigns. Will those donors, who typically make their gifts at the end of the year, simply change their donation date to Giving Tuesday?
The data we've reviewed over the past three #GivingTuesday celebrations disproves this theory and suggests that the event is a hugely successful and sustainable fundraising tool which will grow even bigger over time.
Advance Preparation Is Essential Key
Not-for-profits should realize a positive impact on their fundraising by preparing their organisation and their donors for a successful #GivingTuesday.
Setting Up A Merchant Payment Account
The ability to collect donations online is essential to Giving Tuesday's success. Not-for-profits should make certain that their merchant payment account is established by early October to give them enough time to set up their forms and be comfortable with how everything works. By using DonorPerfect and WebLink, every field automatically imports to your Main, Gift, Bio, or Other Info records. With PayPal or other big-name merchant payment account providers, the data must be manually imported to a fundraising management system.
Having Online Donation Forms Up and Ready by November 1
A donation form is critical to this campaign's success, so it's important to have this locked down early. For DonorPerfect clients, a good place to start is the free #GivingTuesday template in DonorPerfect's WebLink template library. The form can be customized with the logo, colours, and style of ones choice. Remember, WebLink online donation forms come FREE with every new system of DonorPerfect.
Get everything from #GivingTuesday social strategies to day-after donation asks in DonorPerfect's free #GivingTuesday E-Book.
Get the #GivingTuesday E-Book here.